Bingeing the stories of Newfoundland and Labrador
Target has a massive collection of content so would-be visitors can experience the province's leading export from home.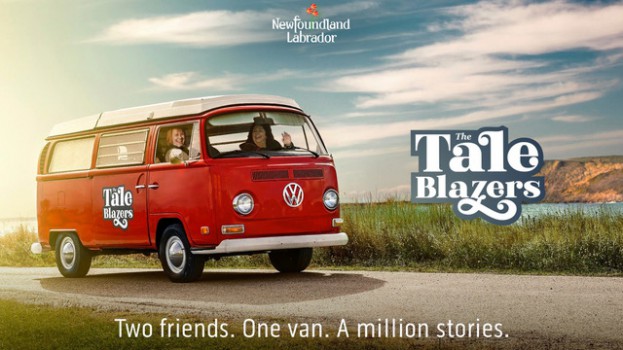 Consumption of digital content has spiked since the pandemic has forced people to spend most of their free time at home. But if people have run out of stories to watch and listen to, Tourism Newfoundland and Labrador has plenty of those to hold them over.
Last year, the province's tourism board and agency partner Target launched a new platform based all around the penchant locals have for storytelling and the kinds of new stories visitors could create for themselves. Building on that, Target developed The Tale Blazers, a web series featuring real-life friends Marlee and Mirella traveling "off the beaten path" to every corner of the province to discover and hear new stories in each 25-minute episode.
The series was originally launched with two episodes in March, but with the COVID-19 pandemic, the remaining episodes have now been released on the Tall True and Tangled website – perfect for people who are either looking for something to binge or travel junkies who remain eager for inspiration for places to go once it is safe to do so again.
In addition to four episodes of the The Tale Blazers, the site includes over 60 individual pieces of content that can really make someone feel like they are immersed in the province. Video, audio, written content and even ebooks cover subjects like local customs, slang, food and landmarks; a deep dive into the province's history; playlists that combine local music with sounds of nature; and a collection of tall tales of indiscernible accuracy, like how a migraine suffered by Sir Sanford Fleming resulted in the province having a time zone half an hour off-kilter with the rest of the world.
It also features a "Story Exchange" where former visitors to Newfoundland and Labrador – and those thinking about becoming one once they are able – can try their own hand at telling a story like a local and submit it to be included.
So far, the site has generated over 300,000 online reading sessions and 27,000 eBook downloads – all without ongoing media dollars, which were pulled once the pandemic began to spread across Canada. There are, however, plans to run the content on Tourism Newfoundland & Labrador's "Find Yourself" channel on Air Canada planes once flights resume, and production for the next season of The Tale Blazers is currently being planned.