Budweiser celebrates getting the buds back
The beer brand lets its animal friends loose as bars get their taps ready.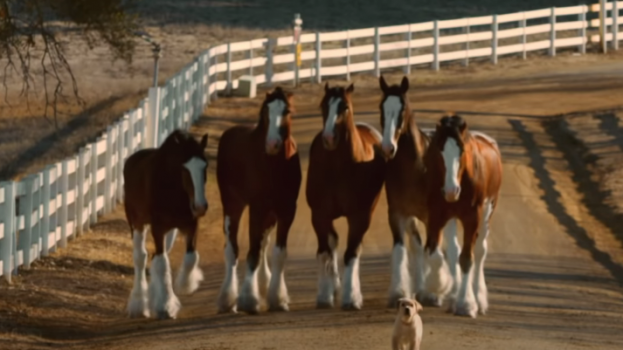 As restaurants and bars continue to reopen across Canada, Budweiser has released a new spot celebrating buds reuniting, in light of friends being able to get together for a pint on a patio.
In the spot, released last week, Budweiser Canada shows bars re-opening and getting their Budweiser taps ready. But the focal point of the spot is the iconic Budweiser Clydesdales, as well as the golden retriever puppy that appeared in the brand's 2014 Super Bowl commercial, both breaking out of their confines and reconvening.
Anomaly Toronto led creative for the spot, which has now been adapted for the U.S. market. In Canada, the campaign will appear on national TV, as well as social media. Vizeum handled the Canadian media buy.
Budweiser usually reserves the Clydesdales and the golden retriever puppy to mark special occasions, like the Super Bowl,  but this "unprecedented" year has been resulting in all kinds of changes.
"In times like these, we're really focusing on how we can support, uplift and entertain our consumers," says Mike D'Agostini, director of marketing for Budweiser Canada. He adds that, between its "One Team" campaign – which highlighted the work of frontline workers in the pandemic and how Budweiser would be shifting its sport investments to help the Canadian Red Cross – to this newly released spot, the challenge for Budweiser is "to reach and drive impact with as many Canadians as we can."
"We know that Canadians are feeling the effects of being separated from their buds, and haven't had a chance to get together over a beer for months," D'Agostini says. "This spot, along with the contest we're running, is a means of not only giving Canadians something to smile about, but also something to help them celebrate when it's safe to do so."
The contest D'Agostini refers to is Budweiser giving Canadians a chance to win a night out with their buds at Boston Pizza. Budweiser will be giving away 2,000 gift cards, with 50 winners a day for 40 days. The gift cards will be worth $50 each and available across Canada, except in Alberta and Quebec. The first winners will be announced this upcoming Monday, and a similar contest will soon launch in Quebec.