Lettuce tell you about Wendy's greenhouse experiment
Canadians will help grow produce by sending loving Tweets, which will be read to the leafy greens for two hours a day.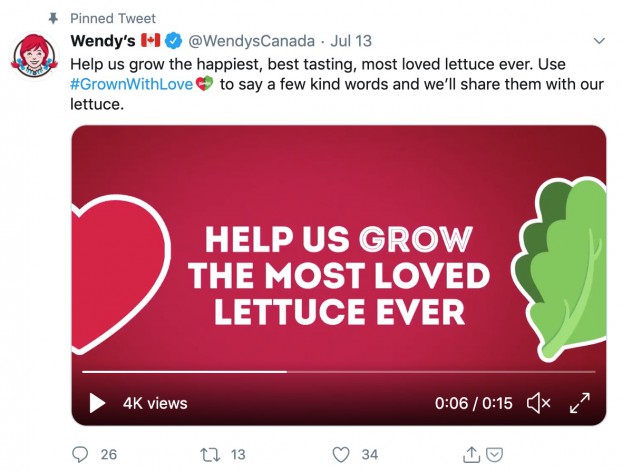 The same week Burger King told the world it started using meat from cows that are fed a low-carb diet so they emit less gas from their rears (a culprit of the global climate crisis), Wendy's revealed it would begin using water-efficient, pesticide-free lettuce that's 100% grown in a greenhouse.
The global media, naturally, jumped on the Burger King news. After all, what kind of a reporter can resist writing a a headline like, "Burger King's latest sustainability effort: reduce cow farts"? However, Wendy's announcement didn't drive as much of a media frenzy – but we're betting McCann is going to help turn that around.
A week after the QSR's move to use greenhouse-grown Canadian lettuce (the first in the industry to do so), the creative agency launched a ridiculous, but kind of genius, experiment to drum up excitement and literal cheers for the eco move.
First, the team installed cameras in two sections of a greenhouse where the Wendy's lettuce is being grown. On one end, lettuce will grow from seed to harvest without any intervention. On the other, a Wendy's rep will read positive tweets from Canadians for roughly two hours a day.
Yes, you read that right. A batch of pampered leafy greens will have their own ASMR-like lettuce-sitter recite line by line in an attempt to help aid its growth – because according to scientific research and the Royal Horticultural Society, plants grow better with love than without.
Wendy's is asking Canadians to send their cheers to the greenhouse by using the campaign hashtag "#GrownWithLove" on Twitter. And because lettuce takes up to 30 days to mature, the brand will be able to share the effects of their encouragement by the summers' end.
"When the team at McCann presented the '#GrownWithLove' idea to us, it was an immediate 'yes' from everyone on our team. It's clever, lighthearted and filled with love – and we can all use a bit of that right now," said Lisa Deletroz, director of marketing at Wendy's Canada in a release. "For the past month, we've been working with the greenhouse team to get the right technology in place at the greenhouse so that the lettuce can, in fact, feel the love from Canadians coast to coast."
Salads that are eventually made with the Tweet-grown lettuce will be packaged in special "Grown with Love" packaging, and there'll be a live streamed event on July 29 for those who actually would rather watch lettuce grow.
Credits:
Agency: McCann Canada
PR: Ketchum
Media: Initiative