Using pandemic-like caution for road safety
SAAQ and Lg2 link the care Quebecers take in the new normal to ever-present concerns on the road.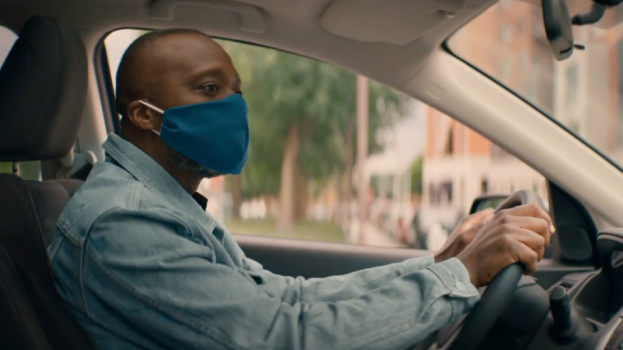 Le société de l'assurance automobile du Québec (SAAQ) wants Quebecers to know that while they've made an effort to protect themselves and others during the COVID-19 pandemic, it would be a waste if these efforts were marred by bad road behaviour.
The insurance brand's latest campaign consists of two 30-second spots, created by Lg2 with media handled by Touchė. In the first spot, a man is patient as he goes through the stop-and-start processes of waiting in various lineups both in and outside the store. He applies the same patience when he approaches a stop sign in his car afterwards, letting a pedestrian cross when he sees her edging out from the sidewalk.
A second spot flips the roles. A woman clad in a face mask, washes and sanitizes her hands every chance she gets throughout the day, a diligence she exhibits when, as she is about to cross the street, she stops because she doesn't have the right-of-way, and a vehicle proceeds through the intersection.
SAAQ notes in a Wednesday press release how the campaign, in part, shows the "new realities" the world is facing as well as the importance of respecting not only COVID-19-related rules in-force, but also the rules of the road.
The creative was designed to "remind road users of the importance of respecting each other, whether you are a driver, cyclist or pedestrian," the release states.
Putting the issues of pedestrian safety and distracted driving under the microscope is not unprecedented for SAAQ. Most recently, in January, the brand launched a video campaign looking to combat distracted driving, showing the consequences can continually persist if it isn't addressed.
The SAAQ campaign has been appearing on television and radio in Quebec, as well as social media and through display ads until Aug. 9.