Designing a way to remove racism from hockey culture
ZGM helped the Hockey Diversity Alliance get its message out, which CCM used in skates that are helping anti-racism causes.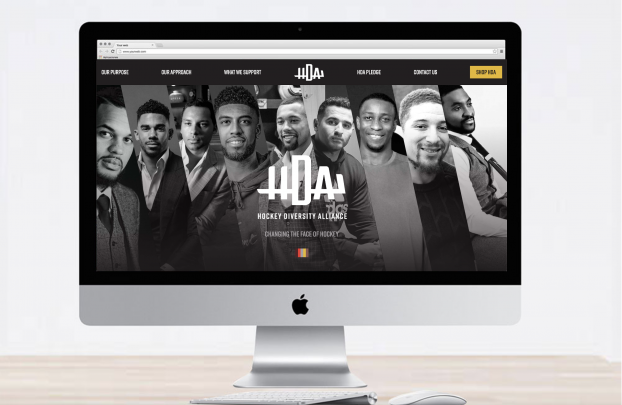 Ask Canadians who played hockey in their youth and they'll tout the benefits and lessons it gave to them, such as teamwork, perseverance and lifelong friendships.
But as many former players can also attest to, the phrase "hockey culture" also brings back memories of its more toxic elements. I, for one, played hockey in a small town in my teenage years, which means I was in numerous locker rooms where it was clear why people of colour might feel like they're not welcome to the sport – and also why the NHL is one of the least racially diverse of the professional sports leagues, with only 30 of the 690 active players in the league being Black.
Matt Dumba of the Minnesota Wild was invited to centre ice before a qualifier game between the Edmonton Oilers and Chicago Blackhawks on Aug. 1, where he became the first NHL player to kneel during the U.S. national anthem. But before doing that, he gave a speech formally introducing the hockey world to the Hockey Diversity Alliance (HDA).
The HDA is a group founded by current and former NHLers looking to improve diversity in hockey and make it more accessible. The founders include Dumba, along with Akim Aliu and Evander Kane, who have been some of the most outspoken players about the racism they have faced on the ice and in locker rooms.
The HDA began organizing in June, after which Dumba had a casual conversation in Calgary during the lockdown with ZGM partner Mario Amantea and his son Cam, who is a friend and former teammate.
ZGM had been looking for an organization to help bring awareness to issues of racism in society. After the conversation with Dumba, Amantea said it was clear there was a group of hockey players already exploring ways to do just that, so the agency put its tools to use shaping HDA's communications strategy, building its brand and creating a new website and social media presence.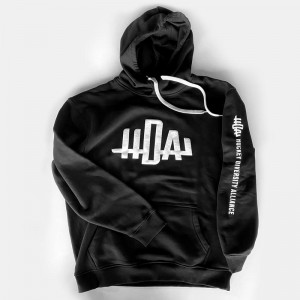 ZGM also helped HDA launch a line of merchandise, sales from which go towards the organization's work. HDA is focusing the majority of its funds on grassroots programs that make hockey equipment – one of the biggest barriers to playing, especially for low-income families – more accessible, as well as skills development programs. It will also fund social justice initiatives within communities, anti-racism education programs and scholarships for players.
HDA's launch came with a video featuring Black athletes from several other leagues and their allies pledging their support to its cause.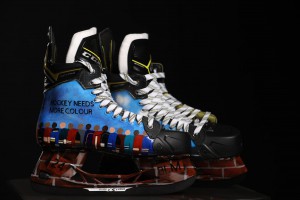 The HDA logo also appears on a pair of skates recently donated by hockey brand CCM, designed by Matt Dumba's brother Kyle and currently being auctioned on the NHL website.
The funds are going to Lake Street Council, a non-profit supporting businesses in the Lake Street neighbourhood of Minneapolis, which are predominantly owned by BIPOC. Kyle Dumba's design was inspired by a now famous mural of George Floyd in the city, along with images of hockey players of all races and buildings found on Lake Street.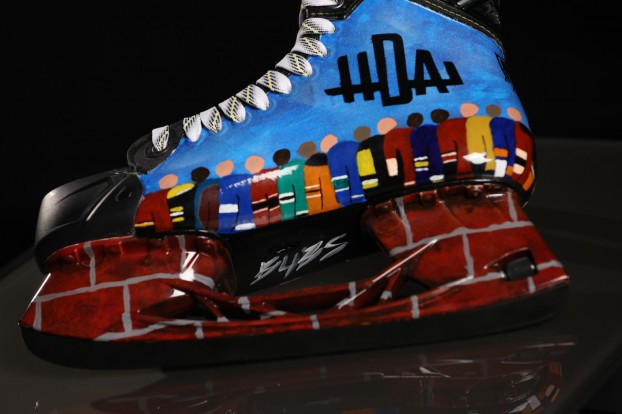 Since being founded in June, the group of players have had several meetings with the NHL to find ways to address issues of systemic racism at the professional level – although founding members of the HDA said those meetings haven't always been productive.
Kane said the NHL's own "We Skate For" campaign is too broad and pulls focus away from the issue of racism, and the league faced criticism from fans who said shows of "solidarity" prior to exhibition games last month were too vague and ineffective, especially compared to leagues like the NBA. The basketball league has allowed players to replace the names on their jerseys with statements supporting social justice and equity causes, and the Toronto Raptors have incorporated Black Lives Matter messaging – in the style of its "We The North" branding – into their team bus, apparel and even the backdrop used during interviews.