EQ Bank unfurls a social distancing reminder
Union helped the digital bank give park-goers shade and safety.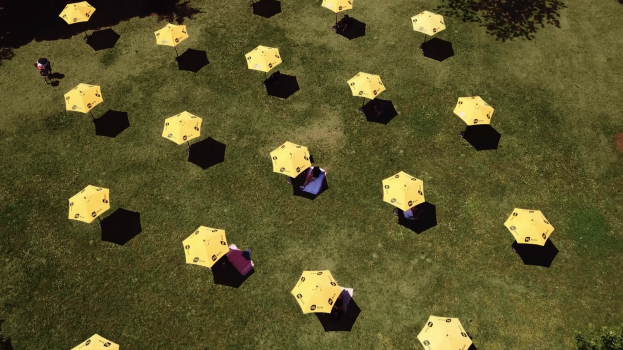 It might seem like an eternity ago, but at the onset of the pandemic, municipal officials began marking circles into the grass in public parks as a reminder to keep safely socially distant. Though not exactly confidence-inspiring, they did help residents get outside without turning public spaces into superspreader events.
But with the heatwaves in July and August, shadier spots were in high demand.
EQ Bank has a solution from the Christo playbook. Working with agency partner Union they supplied branded umbrellas – each with a diameter of two metres – to keep social separation (literally) top of mind at Toronto's Withrow Park.
This move is based on its insights that reveal two-thirds of Canadians actually don't want to relax physical distancing rules, even as the country begins to gradually reopen, making what should be a relaxing trip to the park rife with stress about less-careful people getting too close.
"We know that people are starting to head outdoors to soak up the sun," says Mahima Poddar, SVP of digital banking and strategy at the online bank. "We wanted to help them feel relaxed about physical distancing in a safe, smart way."
After first deploying the umbrellas in July, park goers can expect to see the umbrellas dotted around other green spaces in the city.
Other brands have attempted to make maintaining social distancing easier and more fun. During the August long weekend, digital insurance brand Onlia did it with sand castles and sculptures at a beach.