Tracking the personal impact of 'unprecedented times'
Jam3 helps NFB provide hope for the future by compiling conversations all through 2020.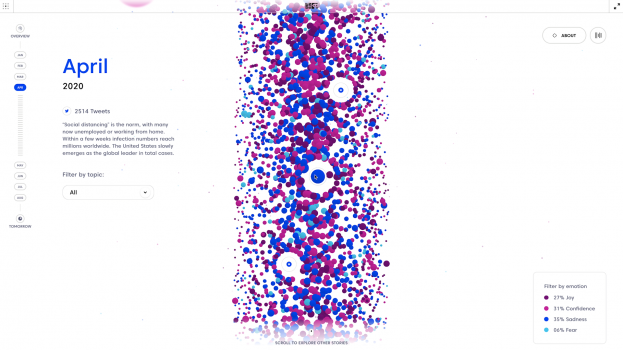 Remember March?
The days when signs began appearing in workplaces and public washrooms telling people how to properly wash their hands seem like years ago, as do the memes about songs to sing while passing 20 seconds of hand-washing time.
The National Film Board, along with digital agency Jam3, created "Yesterday," an interactive platform that not only looks at our triumphs, but also the challenges we've navigated together and the grief we've expressed for the things and people we've lost.
Jam3 conducted interviews with people to understand key themes emerging from how they talked about COVID-19 and its impact, using keywords and topics from those conversations to aggregate and organize thousands upon thousands of tweets going as far back as December. The agency then used machine learning through IBM Watson to categorize sentiments from these conversations, organizing them into four main emotions: fear, confidence, joy and sadness.
The agency then created a digital design framework using bubbles of single Twitter posts that ultimately create a larger circle, which users can explore, be it chronologically, by topic or by the way people have felt. The design, the agency says, aims to be reflective of how our shared humanity seeks patterns in the world around us, and that the conversation is continuous and ever-evolving – the project will continue to be updated with new tweets and conversations as the pandemic goes on, and users can submit their own tweets about what they think the future will look like for the "tomorrow" section of the site.
The topics range from how people kept each other safe to navigating the pandemic's short- and long-term financial impact. Others, however, are about things like Black Lives Matter protests and support, the first thing that managed to replace the pandemic as the top story on many peoples' minds. And the collection, overall, is more positive than one might think: while 33% of the tweets express sadness, only 6% express fear; 32% express confidence and 27% express joy.
The main story "Yesterday" tells us how the pandemic personally impacted people, showing their resilience as a way to get those of us living in the present to keep looking ahead to tomorrow. Tweets in the "joy" category show the little things that helped lift people's spirits since March, from people expressing pride in their new hobbies, to companies and community organizations that found ways to adapt their events and services to a virtual world. Even some of the tweets in the "sadness" category can be somewhat uplifting, seeing how people came together to get through some of the most difficult challenges they've faced in terms of their health, professional lives and mental well-being.
(Like anything AI-led, there are some tweets that are clearly misplaced; I don't think a tweet about Donald Trump downplaying the severity of the pandemic even after the U.S. surpassed 100,000 deaths inspired a lot of "confidence" in humans, though a computer might see it that way,).
"Yesterday" continues the NFB and Jam3′s track record of collaborating on digital experiences meant to help Canadians understand history and the world around us. Those have included award-winning interactive documentaries about bears in Banff National Park or AR-enhanced stories about Japanese internment. Outside of its work with Jam3, last year, NFB worked with a group of students at the Université du Québec à Montréal to create a mobile game that aims to demystify the sexual pleasure of people with clitorises, promoted through a stigma-busting campaign by Rethink.