Reincarnating the wheel
Here Be Monsters helps Tire Stewardship BC show the new life that awaits their old tires if they're recycled.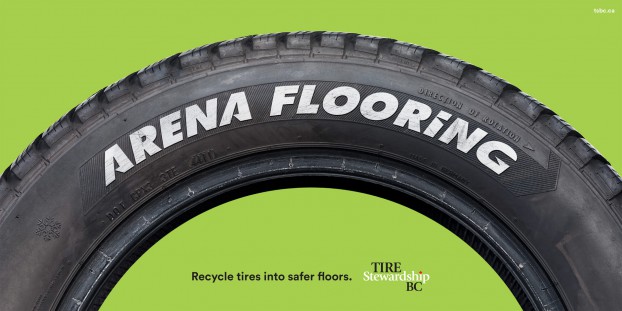 Tire Stewardship BC doesn't want to reinvent the wheel, but it would like people to help turn them into something else.
In a new campaign by Here Be Monsters – the agency's first with the non-profit, which runs tire recycling programs in British Columbia – the branding on the side of tires is replaced with what that rubber will later become, from playgrounds to running tracks to garden mulch.
TSBC wants the public to know that tires are recyclable, capable of turning into so much more and that they take on a second life. These messages come through in not only the form of two radio spots, but also green posters and bus ads that state things like "Recycle tires into greener gardens" and "Recycle tires into softer landings."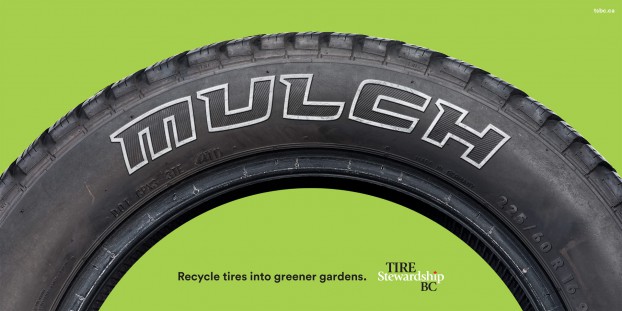 This awareness campaign represents a pivot for the not-for-profit, which collects an average of 50,000 tonnes of scrap tires per year. According to executive director Rosemary Sutton, much of its efforts last year were through community events, some of which involved tire collections. With these events not possible this year due to the pandemic, the organization turned to Here Be Monsters for radio spots, posters and bus ads to generate buzz and participation for the program.
Here Be Monsters worked with Wave Productions for the radio recording of the ads. Wirtz Media handled the media buying. The campaign will run until the end of November.