Giving people a helping hand to come out
Egale and NYX created safe and high-impact ways to help people navigate the emotional journey of National Coming Out Day.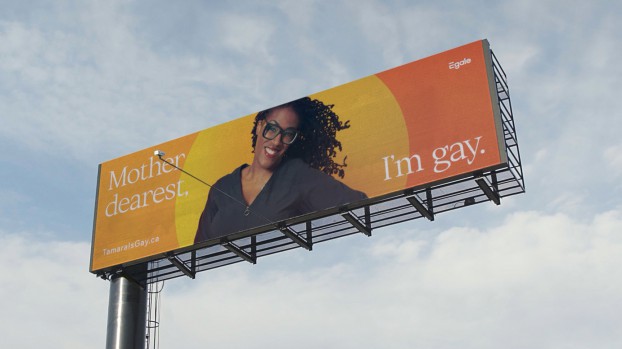 This past Sunday was National Coming Out Day, but a couple campaigns made sure the fact that it fell on a holiday weekend this year didn't let it go by unnoticed.
While many things have changed for the better for LGBTQ2+ people, coming out is still a difficult and emotional process. And the fact remains that many young people today feel more comfortable coming out online, with 75% of Gen Z who identify as queer coming out online before they do so to their family and friends.
So, in the days leading up to National Coming Out Day, several influencers shared their own coming out stories as a way to invite Gen Zers who were grappling with how to do so themselves to a virtual "safe space" session. The virtual chat was moderated by Bill Ryan, a social worker and expert in gender and sexuality who helped start the Safe Spaces Movement in Canada. It was also organized by cosmetics retailer NYX, which has made acceptance a major brand pillar in recent years: all of its stores are designated as safe spaces, while models from across the gender and sexuality spectrum are fixtures of its ads. NYX worked with agency partner McCann Canada on the project, which was also supported by non-profit It Gets Better.
The virtual chat had no cameras or recordings rolling, and was meant to be an open, honest and supportive space where participants could have conversations about the challenges and emotions they were dealing with and how they planned to come out. But to give them an extra shot of confidence, several of the influencers and celebrities entered the chat to give the young people their own words of support and advice, including singer-songwriter Adam Lambert, LGBTQ2+ activist Lauren Jauregui, YouTuber and model Gigi Gorgeous, as well as drag performer Jackie Cox.
Adults can also struggle with coming out, so non-profit Egale helped give three people the platform they needed to finally get the word out.
In billboards across the Greater Toronto Area, each participant was given what might be the most high-impact way possible to tell their loved ones that they are queer. During the shoots for the billboards, each participant was also interviewed about their experiences with queerness and thoughts about coming out for content that was shared across social.
While the campaign ostensibly gave these people a platform to tell their own stories, it was, after all, targeting their loved ones, and a major part of the campaign was to help other would-be allies ensure they do what they can to make coming out easier for their loved ones. Each ad also drove to a website personalized for each person – with straightforward URLs like "AdamIsBi.ca" and "TamaraIsGay.ca" – that featured more about their story, as well as links to Egale's educational resources about how to be a good ally, what to do when someone comes out to you and the kind of inclusive and affirmative language to use in order make sure queer friends and family feel accepted.
Cossette led the campaign for Egale, with its Media arm enlisting Pattison, Outfront, UB Media, AllVision and Bell Media for ad space.