Digitally rocking the vote
Sid Lee and Taxi used video games and Spotify playlists to help motivate our friends south of the border.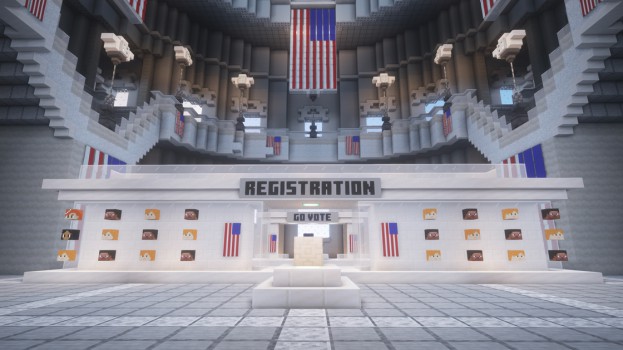 Ahead of election day in the U.S. on Tuesday, numbers for the early voting methods available to voters reached record levels in many states, largely due to people being reluctant to visit in-person polling stations during a pandemic.
But for those who have yet to cast their ballot, two Canadian agencies cooked up some cross-border plans to motivate them to use whatever means available to them to hit the polls.
Last week, Sid Lee helped U.S. non-profit Rock The Vote build voting houses in Minecraft in the hopes that younger voters, in particular, might get motivated to participate in democracy. Players weren't able to vote for the candidates, but they could on ten issues central to political conversations in the U.S, such as healthcare, climate change, racial equality and immigration. While the results of votes cast by young people have been rolled out by Rock the Vote since the centres closed over the weekend, the Minecraft world is less about the votes themselves and more about simulating many of the steps voters in real life go through, from registering to casting a ballot.
Even though Minecraft's numerous players under 18 wouldn't be able to run out to the real-life voting booth after trying it out in Minecraft, the execution still welcomed those who weren't of legal voting age yet. Rock the Vote's mission is to get young people engaged with voting, and efforts like this help young people understand the process and be prepared for when their time comes.
This is actually the second time this year Sid Lee has turned to Minecraft. In September, the agency created a tax centre in Minecraft for client H&R Block, creating a one-day info session for people looking for guidance in a year that brought many new and unique concerns for consumers when it came to their tax filings.
One thing that wasn't simulated in the Minecraft version of voting is one of the things that is, quite frankly, the most disturbing: the exceedingly long wait times. While it may seem like a simple annoyance, lines at voting booths have frequently been cited as a sign of voter suppression in the U.S., with certain districts (such as those with higher BIPOC populations, or ones that tend to have a lower median income) getting less funding and resources to open polling stations. This leads to long lines that many people often don't stay in long enough to cast their ballot, either due to fatigue or needing to get back to their other responsibilities at work or home.
Taxi isn't able to fix this problem outright, but it has come up with something that will hopefully help anyone that can stick out the wait times more motivated to do so. "Grab Him By The Playlist" is a Spotify playlist made entirely of songs that have been played at Trump rallies and events – all of which were never played there again after the artists or their estates served him with cease-and-desist order, not wanting to be associated with the president.
It's something that has happened numerous times over the last four years, so the playlist includes artists ranging from Neil Young, Tom Petty and Prince to Adele, Rhianna and Panic at the Disco. Also, the playlist runs for two hours and ten minutes – what is estimated to be the average wait time for someone to vote in person in the U.S. this year.