Ryan Reynolds and SickKids wrap hospital in Christmas sweater
A new campaign (literally) shines a light on the need for donations.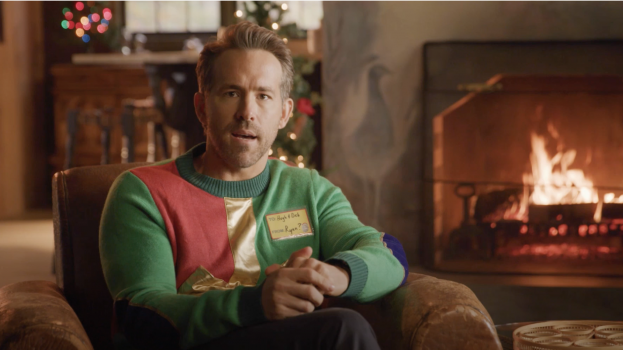 Ryan Reynolds and SickKids have "wrapped" Toronto's Hospital for Sick Children in a 20-foot illuminated sweater display in order to raise funds for the hospital's patient services and its new building.
In a 64-second spot, Reynolds – cladded in his gift-wrapped green and red Christmas sweater – talks about how he and SickKids "wanted to do something huge" to show how much they care about the children at the hospital. He walks the audience through several of those ideas, including an army of puppies in sweaters (a logistical nightmare) and Toronto Maple Leafs' star Auston Matthews playing hockey (a bit of a snooze fest).
Ultimately, they came to the conclusion the best route was to put up a digital 20-foot display of Reynolds' Christmas sweater on the Peter Gilgan Family Patient Care Tower – which is located on University Avenue and houses critical care and inpatient units.
At the end of the spot, it makes a plea to "help Ryan help Sick Kids," encouraging donors to donate before midnight on Christmas Eve, with corporate sponsor Samsung Canada matching the donation up to $100,000.
It has been a difficult year for the Canadian charitable sector. An Imagine Canada Sector Monitor Report reported that one-in-five organizations had either suspended operations or ceased programs as a result of the pandemic. The report also noted that more than two-thirds of charities saw a 31% drop in revenue.
SickKids' Foundation – the hospital's charitable arm – has a "SickKids vs. COVID-19″ webpage which communicates the need for donations during the pandemic, stating how donations will fund the "highest priority needs" such as COVID-19 research initiatives, resources and PPE for clinical care and frontline staff, in-room programs, activities and out-of-pocket expenses for patients and families.
Maximum Effort developed the spot, while OMD handled the media buy.