FitTrack attempts to redefine a weighty issue
The fitness tracker brand creates a body-positive campaign that shows athleticism isn't defined by a number on a scale.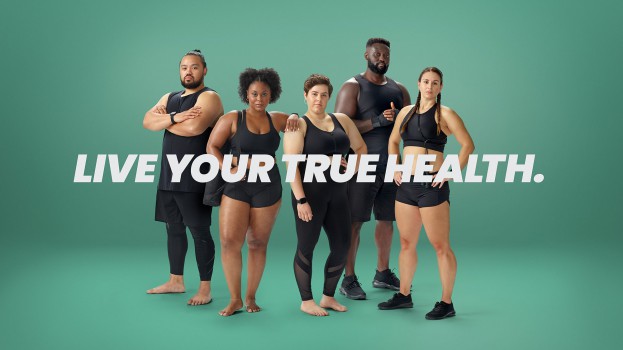 A new global campaign for health diagnostics brand FitTrack is fighting the perception that fitness can be quantified by the number on a scale.
"Live Your True Health" is a body-positive campaign created by Toronto agency The Garden, aimed at reshaping health perceptions and debunking what it claims are "industry myths" about being overweight.
Launched in the U.S., France, and Spain, the campaign is based on the notion that true health is not a one-size-fits-all proposition. The campaign has a cast of fit people of all shapes and sizes demonstrating physical feats like balletic leaps, reinforced with taglines such as "Checking Only Your LBS is BS," "Turn the Scales on Weight," and "Take the Pounds off the Pedestal."
"The campaign takes a firm stance against the misinformation spread by the health and fitness industry – that your weight is synonymous with your health," says Shari Walczak, co-founder of The Garden. "By showcasing real people of all shapes and sizes doing extraordinary, athletic things with their bodies, we busted the weight stereotype and reshaped perceptions of health."
The 360-degree campaign includes broadcast, online videos, an influencer campaign featuring Khloe Kardashian, and a bold #ShareTheScale social challenge. The "Live Your True Health" integrated campaign made its debut on FitTrack's global Instagram page, inviting their 300K followers across all campaign markets to rethink "healthy."
FitTrack, which manufactures a wearable fitness-tracking smart watch and scale that measures 17 health metrics, is a competitor to Fitbit – whose $2.1 billion dollar acquisition by Google was recently given the green light by the European Commission – as well as Samsung and Apple.
The latest data reveals 22% of Canadian households own an activity fitness tracker, with highest and lowest household penetration found in Alberta and Quebec. As reported in Media in Canada, Gen X is particularly fond of these devices, with 21% of the demo reporting they own a Fitbit.