No Frills turns its flyer into a comic book
Released one page at a time, the series also contains 'hidden clues' about upcoming drops and offers.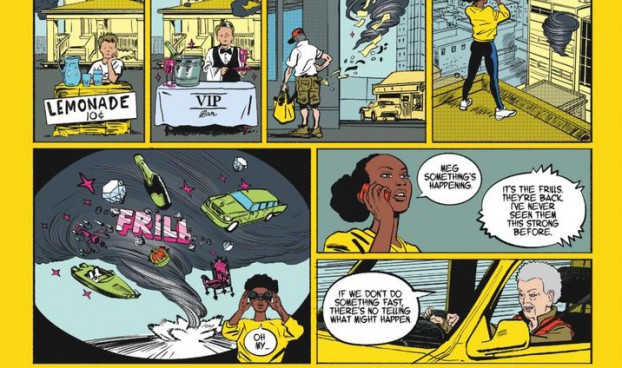 Last year, No Frills and agency partner John St. launched their latest effort to celebrate the deal-hunting skills and prowess of its "haulers," taking a cue from the likes of Marvel to turn them into a super-team.
But, like other superhero franchises that aren't going to be limited to one movie, this campaign wasn't going to just be one spot, and the "Haulerverse" now includes its own comic book.
Beginning last Thursday, the store has been releasing the ten-page "Rise of the Frills" story one week at a time in its flyer. The first page can be found below, and seems to follow the five heroes from the campaign as "The Frills" descend on a city, turning a simple lemonade stand into an upscale VIP experience as cyclones of limos and diamonds suck peoples' pockets dry.
According to a release from parent company Loblaw, the panels will also contain "hidden clues" about drops and offers that will be appearing in the aisles that week.
No Frills has been getting into the habit of extending its campaigns as a way to make its flyer a bit more of a must-read for shoppers – and more attractive to the brands it carries. Last year, when the grocer updated its "Aisle of Glory" online game to include products from some of its CPG suppliers, it came with a special, 8-bit section of the flyer.