KD gets sweet for Valentine's Day
Kraft Heinz shows love for the iconic brand with a candy-flavoured version celebrating the cheesiness of love.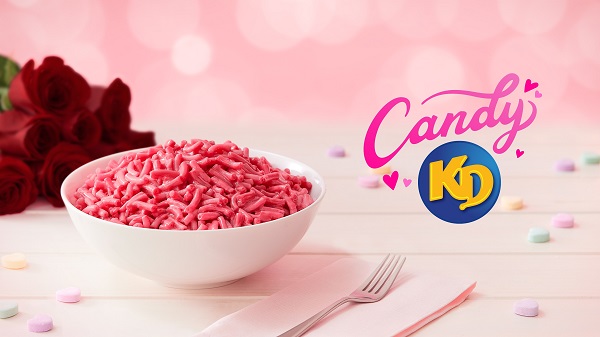 Kraft Heinz is innovating like mad around Kraft Dinner with its latest LTO, a Valentine's Day-themed Candy KD – because, after all, people do crazy things for love.
Not long after planting its flag near Starbucks locations with an out-of-home and influencer/social-led Pumpkin Spice Mac & Cheese LTO last fall, the CPG is noodling with another screwy SKU, featuring what the brand calls "hints of sweet, sweet candy."
In order to get their mitts on the product, Canadians have to profess their brand love through verse, or appropriately cheesy pickup lines, submitted through a microsite or on social channels. The brand will then select the top 50 most creative entries.
Recipients will receive a kit in a candy-style box shaped like Conversation Hearts or Sweethearts, those heart-shaped candies with treacly messages like "Be Mine" inscribed in them. Each box will include traditional KD, a candy-flavoured "boost pack" and a fork.
"Valentine's Day might be the cheesiest day of the year and as Canada's favourite cheesy dish, we wanted to join in the fun," says Brian Neumann, senior brand manager, brand build & innovation at Kraft Heinz.
Candy KD is a decidedly more romantic effort than the brand's fall ecommerce experiment that encouraged people to send "noods" to friends and family, which they could then redeem for a free box of mac and cheese. The brand was compelled to pull the campaign when people were less-than-receptive to the joke.
The program will continue to run until Valentine's Day on Feb. 14 with wider releases made available through drops at CandyKD.ca. The brand is open to the possibility of extending the program from an LTO to a permanent SKU, provided there's enough emotional attachment.
Nina Barton, Kraft Heinz's chief growth officer, has noted that ecommerce food demand has accelerated thanks to COVID and that consumers are more willing to experiment, expand taste horizons and push boundaries.
Last fall, Kraft Heinz globally announced it would subdivide itself into six platforms, organized by growth potential – described as "taste elevation," "easy meals made better," "real food snacking," "fast fresh meals," "easy indulgent desserts" and "flavourful hydration" – which will inform its innovation and marketing efforts.
The North American campaign was developed by Kraft Heinz's Canadian creative AOR, Rethink, which led creative for both Kraft Dinner in Canada and Kraft Mac & Cheese in the U.S.
In Canada, PR AOR The Colony Project led communications and Carat led media. In the U.S., PR AOR ABMC led communications, Starcom led media and The Kitchen led community engagement.