London Drugs' latest inclusive cards reflect pandemic realities
Rethink adds more ways to celebrate love's many forms to the "Cards for All" collection.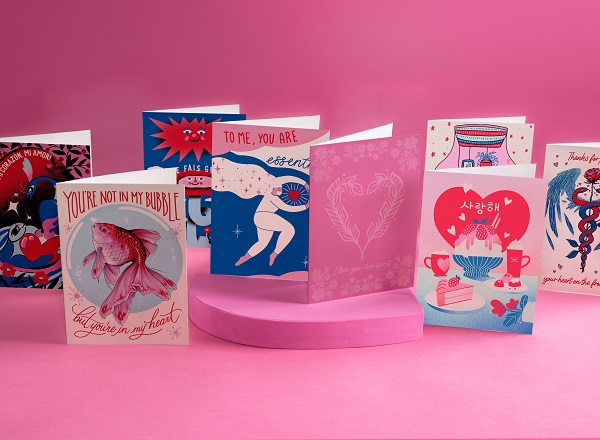 London Drugs is filling in even more greeting card aisle gaps.
The pharmacy chain, one of Western Canada's largest retailers, is expanding its collection of diverse Valentine's Day cards that not only continue its efforts to be more inclusive – with the addition of languages and cards for people who identify as Two-Spirit - but also reflects the current realities we all face during COVID,
The retailer has added eight new valentines, including cards in French, Spanish and Korean, a card for Two-Spirit people, cards that thank essential and healthcare workers and a set reflecting the restrictive conditions we have unfortunately all found ourselves in – those inside/outside bubble binaries.
Last year, London Drugs introduced a pilot program of 31 designs that speak directly to people who might not have seen themselves or their significant others depicted in Valentine's Day cards, especially gay, lesbian, trans and asexual people.
London Drugs also has cards for common-law spouses, as well as people in open and even platonic relationships, such coworkers, single friends or roommates. The new additions join Valentine's Day cards written in Canada's most common languages like Mandarin, Farsi, Punjabi and Tagalog. There is one in Braille, too.
And as in 2020, all cards in the London Drugs collection are designed by local artists, many of whom are from the communities their cards represent. One hundred percent of the proceeds are being donated to United Way, this time to the organization's COVID-19 Response and Recovery Fund.
London Drugs worked with their creative agency partner, Rethink, to build on the pilot initiative, with Hartley PR leading media outreach.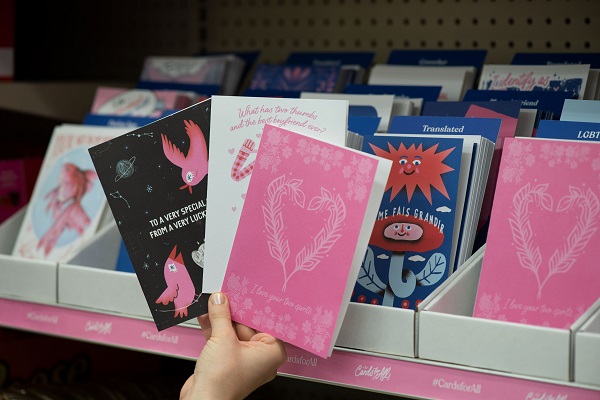 "Last year we stood up for diversity, inclusion, authentic love and modern relationships" says Morgan Tierney, ECD and managing partner at Rethink. "But since then, the very nature of our relationships and the ways we show love have all changed. We wanted this year's collection to reflect that."
Tierney adds that with those in creative industries hit especially hard during COVID-19, it was important to commission artists that have been directly affected.
London Drugs says artists have been eager to join them in their efforts to make Valentine's Day cards more diverse and inclusive.
"After the year we've had, connecting and sharing love is more important than ever. That's why we're expanding our collection to not only represent more communities, but to reach more communities, too," says Clint Mahlman, the chain's president and  COO.
The collection is available online and across all 80 London Drugs stores in Western Canada.