Momenti Pizza gives healthy eaters the best of both worlds
Giants & Gentlemen and a centaur help Dr. Oetker show you can have two great things in one.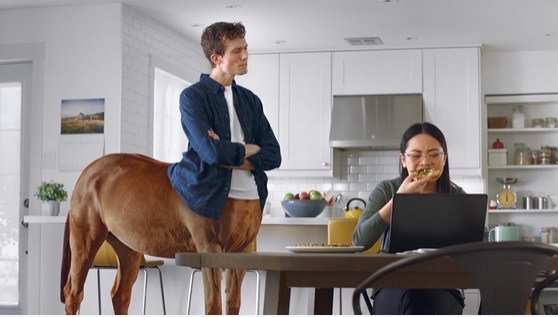 In foodie culture, fusion was a thing for a while, hybridizing different cuisines to create something new.
And now, Momenti Pizza is taking this "best of both worlds" approach, both with its latest product, as well as how it's positioning it.
The new Dr. Oetker campaign touts a list of simple ingredients, and reassures that healthier options don't entail compromising on indulgence.
"We wanted to show what the opposite of 'food guilt' looks like – and that's a happy, confident woman working from home with her doting boyfriend. Her boyfriend also just happens to be a centaur," says Natalie Armata, co-founder and CCO at Giants & Gentlemen, the agency that worked on the campaign.
Armata says that so much messaging around this time of year is an appeal to the health-conscious consumer who's made New Year's resolutions. Being the "best of both worlds" is a promise a lot of "soft health" products could also claim, making cutting through the clutter that much more important.
The campaign, which went live in January, features 15-second TV and online video spots, as well as six-second cut-downs across YouTube and social media.
Dr. Oetker and Giants & Gentlemen are no strangers to getting a little silly. Valentine's Day-centred campaign creative revolved around singing for one's supper, comically showcasing a cheesy lounge lizard crooning about frozen pizza and giving fans a chance to win not only a diamond ring but also a custom love song.
Credits
Client: Momenti Pizza (Dr. Oetker)
Agency: Giants & Gentlemen, Toronto, Canada
Production House: Someplace Nice
Music Studio: Pirate
Post Production: Saints Editorial
VFX & Colour: Darling
Media: Omd
Chief Creative Officer: Alanna Nathanson
Chief Creative Officer: Natalie Armata
Chief Operating Officer: Gino Cantalini
Associate Creative Director/Art Director: Becky May
Associate Creative Director/Copywriter: Logan Broger
Business Lead: Victoria Douglas
Account Manager: Maddy Michaud
Agency Producer: Rob Tunnicliff
Executive Producer: Estelle Weir
Director: Pete Henderson