Scotts' new detergent was a lawn-time coming
Rethink and the yard care brand want your clothes to smell like fresh-cut grass.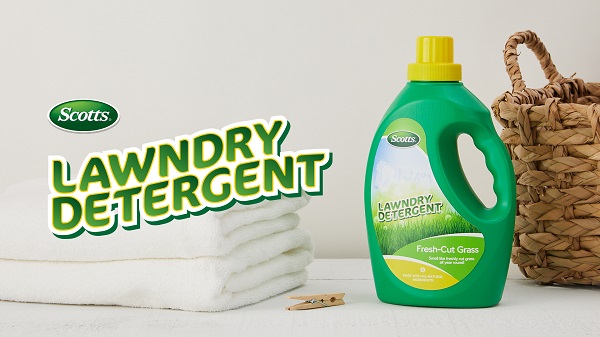 Lawn care company Scotts Canada is giving people the chance for their clothes to smell like one of their favourite things: fresh-cut grass.
Even though "Lawndry Detergent" embraces the advertising cliché of having a fresh scent, but it's one that the brand comes by honestly as a mulch and fertilizer specialist: the product's "fresh-cut grass" smell means Canadians can have their olfactory senses tantalized by a product that conjures up a recently manicured putting green.
But it's not available in stores, so interested parties need to take part in the contest where they share their love of fresh-cut lawns on the Scotts Miracle Gro Canada Instagram page by March 14, with 115 detergent bottles up for grabs.
"Fresh cut-grass scented laundry detergent is a way to keep Scotts top of mind, even during the winter months," says Loretta Lau, CD at Rethink, which conceptualized the campaign. "Once we had the idea, the name Lawndry wrote itself."
According to Glenn Martin, director of marketing at Scotts Miracle-Gro Canada, it's been a long, challenging winter and, as lawn care leaders, the brand wanted to inject a bit of summer into Canadians' lives with a natural, playful scent.
In a campaign vid supporting the launch, Canadians are urged to "get a load of" Scotts' challenger detergent brand, honing in on its "all natural ingredients" value proposition.
The campaign is being supported across the brand's social channels and includes an integration with influencers.
The scent of the all-natural detergent was developed with The Soapworks, a Toronto-based natural soap company that caters to people with skin sensitivities. Media is being handled by Wavemaker, with MSL leading community management.
Credits
Title: Scotts Lawndry Detergent
Client: Scotts Canada
Date of First Appearance: Feb 16, 2021
CCO: Aaron Starkman
ECD: Mike Dubrick
Head of Art: Joel Holtby
Creative Director: Loretta Lau, Allan Topol
Associate Creative Director/Art Director: Skye Deluz
Associate Creative Director/Writer: Naeem Ghafari
Designer: Brandon Methner
CSO: Sean McDonald
Strategist: Savannah Onofrey
Sr. Producer: Anna Tricinci
Producer: Spencer Houghton
Studio Producer: Narine Artinian
Editorial: R+D Productions
Editor: Stephen Parker
Audio House: Berkeley Inc.
Audio Director: Jared Kuemper
Audio Producer: Tyna Maerzke
Colour: Studio Feather
Sr. Colourist: Ana Escorse
Colour Assistant: Thomas Eberschveiler
Colour Producer: Sara Windrim
Account Services: Rethink
Daniel Riggi, Account Director
Gib Hassan, Account Manager
Client: Scotts Canada
Glenn Martin, Director of Marketing
Scott MacDonald, Group Marketing Manager
Nicholas Welch, Assistant Marketing Manager
Jennifer Cummins, Digital Marketing Manager
David Bruzzese, Digital Marketing Specialist
William Allen, Digital Marketing Specialist
Other Credits:
Media Agency: Wavemaker
Alice DiGiovanni, Group Director
Seema Bains, Client Business Manager
Daniel Audia, Assistant Media Planner
Social Agency: MSL Canada
Megan Page, Senior Director
Karren Arenque, Account Executive
James Lonergan-Larsh, Account Executive