WWF makes a stirring plea to dampen Arctic Ocean noise
Vancouver's Linetest evokes a bowhead whale to push a message about the impact of human activities in the Arctic.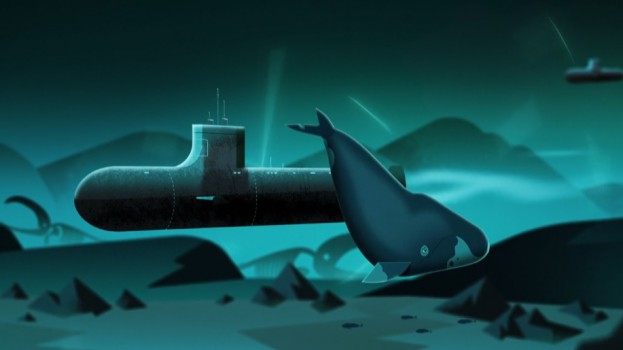 The World Wildlife Fund (WWF) is highlighting the potential harms of human-made noise on life in the Arctic Ocean in its latest spot.
Launched this past weekend to coincide with World Whale Day, "Less Noise, More Life" is an animated spot developed by Vancouver-based studio Linetest and narrated by Tantoo Cardinal that showcases the plight of a bowhead whale affected by human noise.
The bowhead, with a lifespan of 200 years, makes an ideal focal point for the spot. The species has survived a period of tremendous change in the Arctic Ocean as human activity there has increased, with shipping traffic alone increasing by 25% between 2013 and 2019, according to a recent study by the Arctic Council.
That increase in shipping – as well as other human activity, such as oil and gas exploration – has had clear negative impacts on the ability of marine species to hunt, mate and migrate, according to recent findings published in the journal Science.
Though information is just starting to surface about the impact human noise has on ocean life, there is still much to be learned. The goal of the spot is to raise awareness of these issues, and to encourage people living in Arctic countries to push their leaders to take action on the issue.
The WWF is urging people to do so by sharing the spot on social media with the hashtags #LessNoiseMoreLife and #WorldWhaleDay.