Kraft Heinz tests patience with a super-slow webpage
Rethink created a giveaway that's easy to enter, if you can wait 57 minutes for the site to load.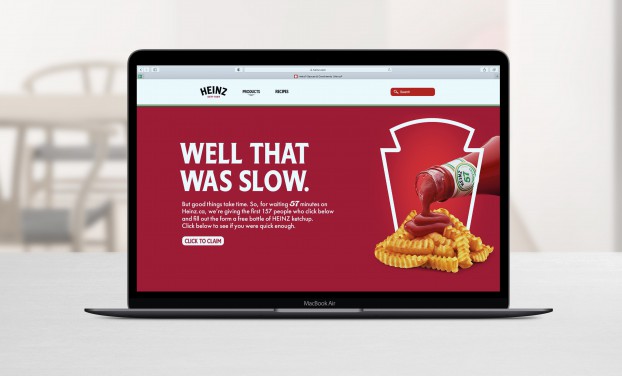 Kraft Heinz took it slow with its latest ketchup promotion. Real slow.
On Thursday, the CPG giant converted the front page of its websites in the U.S. and Canada into a sluggish, gamified giveaway for their category-leading product that made visitors to the page wait the same number of minutes as the number of varieties printed on its bottleneck – 57, for those unfamiliar – to load. And now that we have all gotten used to our high-speed internet connections, going back to the speeds of dial-up is no easy ask.
Once the page loaded, the first 157 visitors earned themselves a free bottle of ketchup. Though the giveaway is already sold out, the company is urging people to "stay patient, there may be more."
The goal of the promotion is once again to associate a brand trait with the customer experience, according to Daniel Gotlib, associate director of brand building and innovation at Kraft Heinz Canada. In this case, it's intended to get customers thinking about the slow pour of the condiment from its glass bottle.
The giveaway is the latest Ketchup campaign from Kraft Heinz and creative agency Rethink, with Carat handling media and the Colony Project handling communications. It follows January's "Draw Ketchup" campaign, which played on the ubiquity of the brand and ketchup bottles, as well as last year's single-colour puzzle giveaway, which also tied back to making consumers be patient. The website launch also comes with new creative, showing other recognizeable images of "slowness."