Leon's gives you a vacation in your own home
BIMM's latest campaign introduces the "renovacation" trend, where customers can create an escape without leaving the house.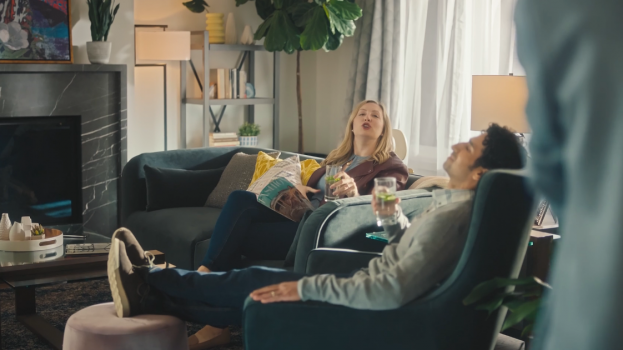 The past year has drastically blurred the lines between home and work. However, Leon's knows all about making your house a home, so in its latest campaign from BIMM it's suggesting steps to make sure it stays that way.
The hipster couple from Leon's and BIMM's other "Surprisingly Stylish" campaign have returned, only this time, their family members seem to have found a stylish new trend before them – a "renovacation," which is all about creating a little escape in their own home.
The "Surprisingly Stylish" campaign previously aimed to refresh Leon's image and show younger homeowners that it's a place to find stylish furniture and home decor. But over the past year, most new furniture purchases were intended to make the places people are spending the most time as comfortable as possible, while also accommodating the fact that homes are also functioning as offices and classrooms.
So, Leon's wanted to bring its campaign back to address the emotional need within that, which is that people need a change of scenery. And with vacations and nightlife off the table for most Canadians, it's advocating for creating a sanctuary they can escape to, separate from the desk and computer down the hall.
The 15- and 30-second versions of the spot have begun airing on TV. Additional 15-second spots for TV and social will debut this month, featuring a more direct call out to a "Renovacation" sales event at Leon's. The campaign also includes executions through direct mail, flyer, email and the Leon's website.
Credits
Client: Leon's
Agency: BIMM
CCO: Roehl Sanchez
ACD: Sarah Cody
ACD: Matt Morris
Creative Services Director: Frank Gianforcaro
Group Account Director: Tamara Sayers
Account Supervisor: Alison Gray
Broadcast Producer Sarah Bogue
Client: Lewis Leon, Head of Marketing
Client: Andrew Kretz, Marketing lead digital and e-commerce
Client: Sabrina Bevilacqua, marketing – social pr content
Client: Elizabeth Tajada, marketing operations manager
Director: Michael Downing
Producer: Jeff Schwartz
Production House: Partners
Editor: Matt Kett, School