How a social spot turned into Canada Goose's first TV ad
Impossible Studios' work got so much love internally that it was turned into a bigger brand push.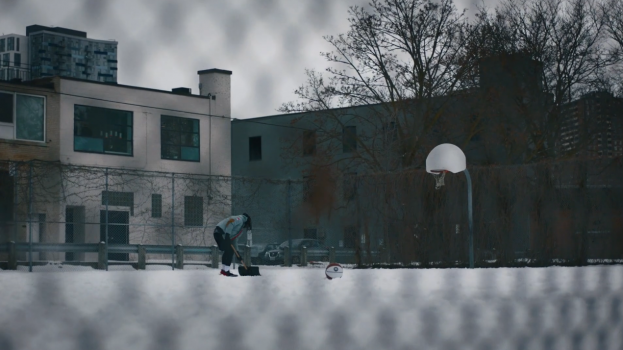 Anyone watching the NBA's All Star Weekend events might have noticed a new presence on their TVs, with Canada Goose airing its first TV ad in both Canada and the U.S.
Even in a non-pandemic year, the All Star game is at a bit of an awkward time of the year, as anyone living north of a certain latitude line might not exactly feel motivated to go outside and hit the court. But, as the ad shows, a little snow and cold shouldn't limit anyone from pushing forward and "live without limits" on their courts.
Despite how well the basketball-centric message aligns with the boundary-pushing message of Canada Goose's "Live in the Open" platform, a TV spot was only made part of the plan fairly recently.
Canada Goose's agency Notch Video originally enlisted Toronto's Impossible Studios to shoot something that would be a piece of social content promoting a special collection from Canada Goose and L.A.-based designer Rhude (the collaboration is the first special collection Canada Goose will make as part of its new sponsorship of the NBA All-Star Game, outfitting players as well as fans who can get their hands on the limited-edition drops).
But after shooting and delivering its first cuts, the response from Canada Goose to the work Impossible was able to do in little over a week-and-a-half was good – like, really good. So good that, by the time it reached CMO Penny Brook, it was decided that it needed to been seen by a wider audience.
The footage was then made into a bigger brand spot, and media was put behind it so it could be seen during the All Star Weekend events and throughout the rest of the regular season.
Talk about not letting limits hold you back.
Credits:
Client: Canada Goose
Agency: Notch Video
Production: Impossible Studios
Director: Michael Rae
DP: Evan Ciniello
Producer: Adrian Cheung
Executive Producer: Marco D'Angelo
Transfer: Alter Ego
Colourist: Andrew Ross
Colour assistant: Jonah Vinneri
Senior Producer: Jane Garrah
Editorial: Married to Giants
Senior Producer: Jenna Edwards
Editor: Scott Edwards
HMU: Lisa Vella
Wardrobe stylist: Tara Rivas
Talent: Eric Landry, Micaella Riche, Zavier Croft, Emmanuel De Jesus