BC Securities Commission says no to FOMO
Wasserman + Partners' campaign turns FOMO into a person to warn people about a common fraudster tactic.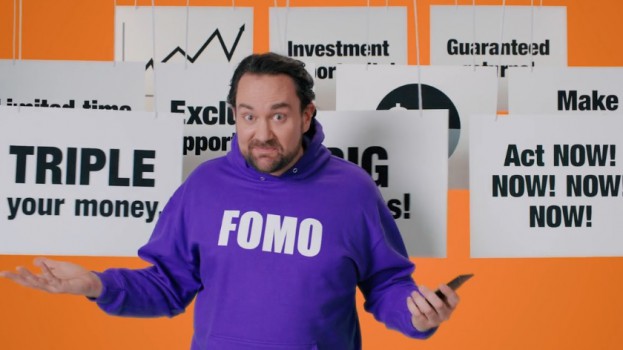 Nobody likes to miss out on a golden opportunity, but the BC Securities Commission (BCSC) and Vancouver-based Wasserman + Partners are urging people to not let that keep them from being cautious in their investing.
In a new campaign, the BCSC turns the fear of missing out – or FOMO – into an actual person. But instead of personifying trips or parties you might see someone post about on Instagram, FOMO is wading through a series of too-good-to-be-true offers, which often extended by potential fraudsters to their unsuspecting victims.
By extending purportedly time-sensitive – but false – information to their would-be victims, con artists dial up the pressure to lure someone into making a very expensive mistake. The campaign aims to prevent such schemes by urging people to think twice and do a little research before making a costly blunder.
"The BCSC wants people to do their research before they dive into any 'opportunity,'" Stefan Hawes, president at Wasserman + Partners, said in a release. "When we arm ourselves with good information, we go a long way to protecting ourselves from potential investment fraud."
The campaign launched March 3 and will run until the end of the month. Media is also being led by Wasserman.
Credits:
Client: The British Columbia Securities Commission
Agency: Wasserman + Partners
Agency President: Stefan Hawes
Creative Director: Bronwyn Mackay
Copywriter: James Dolan
Art Director: Terry Lin
Producer: Kelly Swan
Strategic Services Manager: Alejandra Suarez
Production: Jarmaine Productions
Post-production: PostPro Media
Audio: GGRP