Inside Hydro-Quebec's green energy gondola
The futuristic ride reflects the company's sustainability goals, and Lg2 needed a lot of technical know-how to get it off the ground.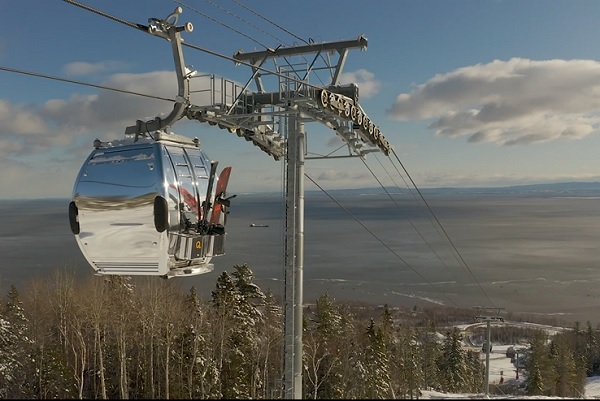 Hydro-Québec wrapped up a ski gondola in mirror vinyl, to literally reflect the power of wind, solar and water energy.
Hydro-Québec's Hydro Express is a futuristic gondola that takes skiers and snowboarders up Le Massif de Charlevoix, a popular ski area Northeast of Quebec City, and is designed to pique the curiosity of the downhill set by merging digital, sound and space design.
The first thing they might notice is how easy the gondola is to miss: the team at Lg2 came up with the idea to cover the exterior with reflection film so the ski lift would not only blend into the environment and showcase the importance of the fundamental elements of the renewable energy future Hydro-Quebec is working towards: wind, sun and water.
Once inside, these invisible renewable energy sources were made visible through an audiovisual projection on the gondola's interior walls.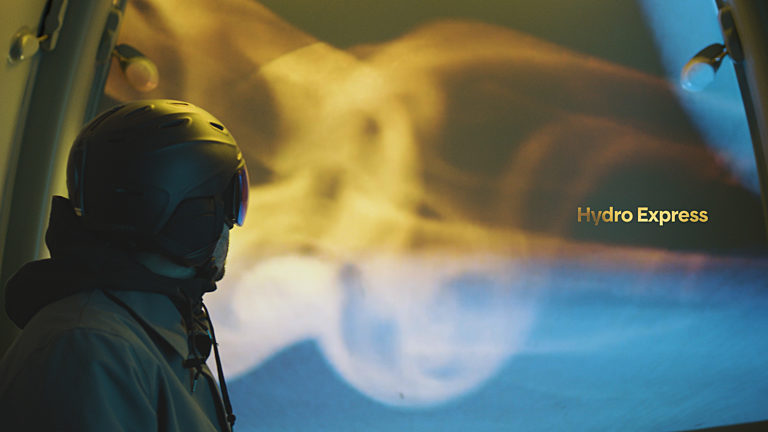 According to Nicolas Baldovini, VP and CD, digital experience at Lg2, since it was operating in tight quarters, the projection had to be top-notch and the agency's digital experience team put in "hundreds of hours" to create the gondola experience, dubbed "Hydro Express." The unique projection space also created a number of challenges for the team to overcome.
For one, the team was not allowed to alter the internal structure of the gondola or attach anything to the exterior, for safety reasons, and had to project in a way that riders would not block or disrupt the image. The lift is also often exposed to temperatures as low as -40 Celsius, meaning it had to work in frigid temperatures. Also, it all had to be battery-powered, as the curvilinear box has no power source.
The other challenge: there is no set amount of time for a journey on the gondola, as it can stop at any time. That's why the content projected is instead linked to an altimeter monitoring its climb, so that the visual projections and narration tracks would not be interrupted by a sudden stop.
The gondola took its first trip in December and will continue to run through the summer, when the mountain begins to host mountain bikers and hikers.
Credits
Brand: Hydro Quebec
Agency: Lg2
Clients: Gary Ravaz, Nicolas Chikhani
VP Creative, Digital Experience: Nicolas Baldovini
VP Technology, Digital Experience: Louis-Philippe Favreau
Digital Account Services: Simon Regniault
Creative Director: Julien Jean
R&D Director: Nicholas Charbonneau
Copywriter: Geneviève Langlois, Fréderic Tremblay, Jeremy Hervieux
Multimedia production: Antonin Gaud, François Guinaudeau
Sound Design: Christian Olsen
Creative Technologist: Jean François Picard
Creative Developer: Nicolas Daniel
Content Creator: Paul Transon
Account Services: Marie-Eve Despars, Justine Côté, Émilie Masse, Marie-Eve Léonard, Adele Charest-Normandeau
Production: Geneviève Demers, Emmanuelle Bérubé, Emmanuelle Gauthier-Laquerre
Creative Director (Making-of video): Geneviève Langlois, Frederic Tremblay
Director (Making-of video): Nova Film
Special thanks: Julie Tardif, Maxime Letendre, Hugues Dufour, Maude Barrette Desjardins, Ateliers Belleville, Version Image Plus, Install4U, Lumi-Vert