Hasbro turns Monopoly money into a real donation
The toy brand donated $20,580 (the equivalent found inside the game) to Holland Bloorview as part of its inclusivity pledge.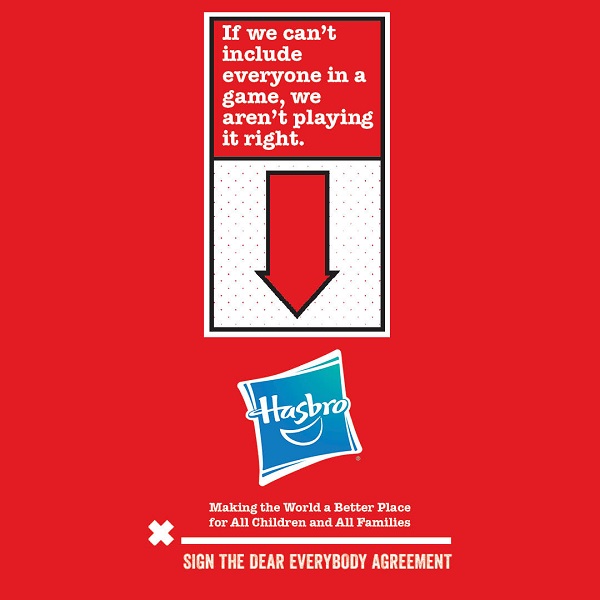 In August, Holland Bloorview Kids Rehabilitation Hospital, with help from Forsman & Bodenfors, put out a clarion call, "Dear Everybody," asking advertisers and the media to be more inclusive of people with disabilities. Hasbro Canada is among the brands that answered.
The toy company recently became both a signatory to Holland Bloorview's disabilities inclusivity missive, as well as a donor, giving the orgnanization $20,580 – the total amount of game play money in a Monopoly board game. Because, says Hasbro, "if we can't include everyone in the game, we aren't playing it right."
The timing coincided with Friday's World Monopoly Day, recognizing the auspicious day back in 1935, when Parker Brothers (now the main board game division of Hasbro) bought the rights to the iconic celebration of laissez-faire capitalism.
"As a global play and entertainment company, we have the unique privilege of being a part of childhood, play and entertainment. With that privilege comes a responsibility to lead through our values and foster inclusion," says Greg Ferguson, VP of marketing at Hasbro Canada.
Hasbro is also supporting Holland Bloorview by leading a Town Hall on the Dear Everybody Agreement, as well as developing more inclusive advertising and volunteering opportunities.
"Dear Everybody" was informed by Leger research revealing that 75% of respondents believe it's important for Canadians with disabilities to be featured in public-facing media. So far, 100 brands have signed on to Holland Bloorview's Dear Everybody Agreement, including CIBC, Capital One, General Mills, and Rogers to name a few.
Hasbro put out a call of its own on Thursday, asking the public to vote on changes to the game's Community Chest cards, which will be updated for the first time in its 85-year history to be more community minded, replacing dated references like beauty pageants.