Teck weeds out the copper contrarians
It can be hard to make resources compelling, but Will's social experiment brought antimicrobial benefits front-and-centre.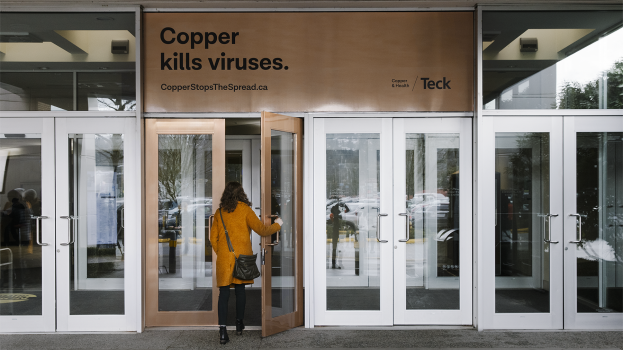 A new campaign from Teck Resources and Vancouver agency Will has people pondering the antimicrobial benefits of copper amid a pandemic, when fear of bacteria and viruses is high.
At the heart of the campaign, which runs until mid-April, is an experiential activation devised in partnership with Kiddo films.
For the activation, a busy public entryway presented the public with a choice as they passed through: use a regular door, or use a copper one, which signing proclaimed kills 99.9% of bacteria and viruses.
A video released to promote the experiment shows that, when presented with that choice, there were no contrarians; people unanimously opted to use the copper door.
The goal of the experiment was to convey a simple message: copper, with its virus- and bacteria-killing properties, should be the material of choice for touch surfaces in public spaces.
"Seeing the reaction of everyday people learning the health benefits of copper was incredibly positive," said Jay Schlosar, director of the copper and health program at Teck. "The excitement and interest in Teck's copper and health program confirms how important it is to advocate for the use of antimicrobial copper in public spaces."
The campaign is comprised of social, digital and OOH across Vancouver, Toronto and Ottawa, all of which directs people to a website where they can learn more about copper's beneficial properties.