Why reek of beer when you can smell like a beer candle?
Now is the right time, Miller says, to smell like your favorite bar.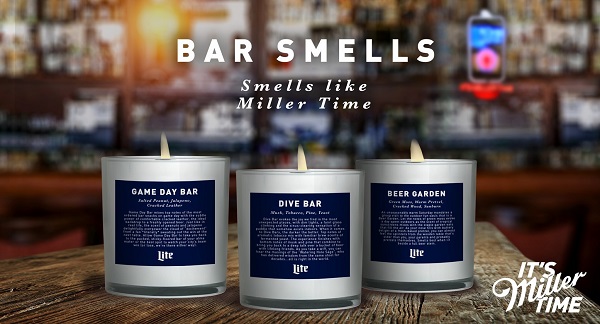 Coming home smelling like a bar is not exactly the foundation of a healthy relationship, but Miller Lite is looking to build a better one with its consumer base by releasing candles scented like your favorite watering hole.
Under lockdown conditions, many of us are missing being able to darken the door of their local drinking establishments and enjoying a pint. It may have even gotten to the point that they are even missing the aromas, stale and pungent as they might be, as they take those first few steps in the door.
To tap this sentiment and to coincide with taps flowing again, the Molson Coors brand has curated scents, "Dive Bar" (with hints of must, tobacco, pine and yeast), for yours truly, "Game Day Bar" (salted peanut, jalapeno, cracked leather) to make it seem like you are enjoying the Toronto Maple Leafs season in an appropriate environment, and "Beer Garden" (green moss, warm pretzel, cracked wood and sunburn) for when you want to recall the revelry of an outdoor fair or festival.

It's of course adapting the iconic brand tagline to "Smells like Miller time."
All profits for the scented candle line will go to supporting the service industry, which has been hit hard by pandemic lockdowns.
"We know Canadians are feeling nostalgic for their favourite bars right now so we wanted to create an experience that instantly transported them back" said Joy Ghosh, senior brand director at Molson Coors. "We owe so many amazing memories to our local bars and this initiative is our way of saying thank you, and we can't wait to be back."
ICF Next in the U.S. developed the creative concept, while Citizen handled execution in Canada.