KFC nicks other brand slogans
With its own iconic catchphrase still on hiatus, the QSR is grabbing taglines from the likes of Red Bull, L'Oreal and Scotiabank.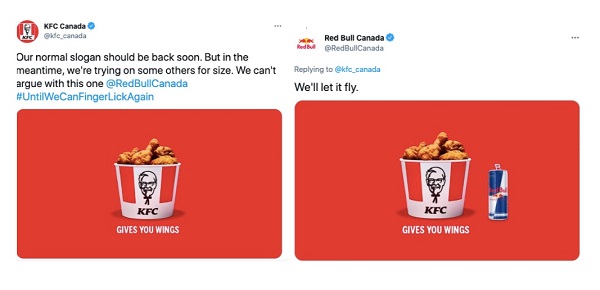 Last year, KFC tinkered with its well-known "It's Finger Lickin' Good" slogan, pixelating out the middle two words to avoid encouraging the touching (or licking) of surfaces amid a global pandemic.
Now, the QSR is at it again, only this time it's playfully grabbing slogans from other well-known brands in its latest social media stunt, as it teases the eventural return of "It's Finger Lickin' Good" tag.
For example, KFC Canada borrowed Scotiabank's "You're Richer Than You Think," L'Oréal Paris' "Because you're worth it" and Maybelline's "Maybe she's born with it" and tweeted at energy drink maker Red Bull that KFC was trying its "Gives you Wings" tagline out for size (to which the bevvy brand responded, "We'll let it fly.")
KFC in the U.K. and Ireland got in on the action chiding McDonald's with an "I'm lovin' it" image (below) all while using the hashtag #UntilWeCanFingerLickAgain. In other posts, the QSR pleaded with the brands, asking them to "please don't sue us."

"We hope the teams at Red Bull, L'Oréal Paris, Nike, Scotiabank and Maybelline didn't mind that we borrowed their slogans – we promise we'll give it back," said Katherine Bond-Debicki, CMO at KFC Canada (who took over the marketing reins for the company late last year), adding that hitting pause on its own tagline was tough.
"We can't wait for things to return to normal and just the thought of a reunion with both our slogan and our fans has us getting all emotional," she says.
As Debicki told strategy last summer it will be be bringing "It's Finger Lickin' Good" back when the time is right," as it's part of the brand DNA. "'And just like Schwarzenegger, it will be back. Bigger and better than ever."
In February, KFC parent company Yum Brands reported Q4 net income of $332 million, down from $488 million. However, Yum, which also operates Pizza Hut and Taco Bell, topped analysts' quarterly revenue and earnings expectations despite closures and a shift to off-premise.
To paraphrase Timex' shopworn slogan, KFC is taking a licking but keeps on ticking.
Mother, KFC UK's creative agency, lead the global campaign development. KFC Canada partnered closely with John St, Wavemaker (media agency) and Narrative (PR agency) to bring local relevance and to activate the campaign in Canada.