Need to ease stress? Boston Pizza has you covered
John St.'s latest creation for the restaurant is a weighted napkin to relieve the anxiety that comes with deciding what to eat.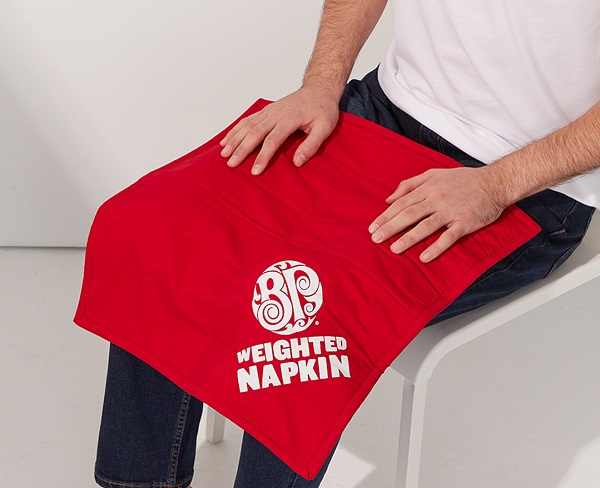 Boston Pizza is offering a comfort cover to fans of comfort food.
The family-style restaurant chain has created "BP Weighted Napkins," three pound serviettes that add some heft to a new campaign for Boston Pizza Meal Deals.
The Weighted Napkins were inspired by the surging popularity of weighted blankets, coverings ranging from 5 to 30 lbs that have therapeutic applications, like easing tension and improving overall mood, by mimicking a technique known as deep-pressure stimulation.
And something like this might be more needed these days, with families spending more time debating what to get for take-out. According to Cam Boyd, CD at John St., which helped Boston Pizza create the product and promotion, there's a lot of tension around dinnertime decision-making.
The product is an LTO exclusive to Instagram, where consumers are encouraged to engage with the brand in order to win a napkin or one of five $100 Boston Pizza gift cards, starting April 7. It's also the latest in a series of fun food-adjacent products the restaurant has created to both stand out from the competition and promote specific parts of its business, including putting mini tables and chairs in boxes to promote its patios and a caroling pizza box to promote pizza delivery over the holidays.
Credits:
Title: BP Weighted Napkins
Advertiser: Boston Pizza
SVP Marketing: Peter Blackwell
VP Marketing: James Kawalecki
Director of Marketing: Niels van Oyen
Marketing Manager: Sarah Baird
Agency: John St.
Chief Creative Officer: Cher Campbell
Creative Director: Cam Boyd
Copywriter: Marly Dichter
Art Director: Shirley Wang
Strategist: Daavi Wong Wolfson
Producer: Andrew LaGrave
Producer: Danielle Lloyd
Team Lead: Ian Brooks
Account Supervisor: Kelly Brennan
Production: FUZE Reps
Executive Producer: Nicole Gomez
Photographer: Chris Robinson
PR: Glossy