Bada-boom, bada-bath
Church+State helps DoorDash and East Side Mario's serve up a different spicy meatball: a savory bath bomb.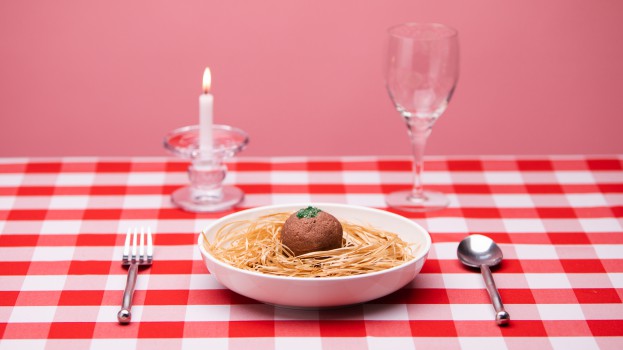 While DoorDash and East Side Mario's are typically brands associated with the dining experience, the two have partnered to cook up something new for the bathtub.
The food delivery service and casual dining restaurant, in tandem with creative agency Church+State, have released a limited-edition Meatball Bath Bomb, but they're (thankfully) holding the beef – the bomb will instead smell of rosemary and lemon.
The bath bomb is available for free as a side for East Side Mario's orders of $35 or more placed through the DoorDash app from April 23 to 29, while supplies last. Customers need only add the bomb to their cart and enter the promo code "meatball."
Andrew Parsons, creative group head at Church+State, is well aware that this is an out there idea, but says that's part of the point: there's no better time than right now to combine the relaxation of a warm bath with the laugh the idea of a meatball bath bomb will generate.
Canadians can also check DoorDash Canada and East Side Mario's Instagram feeds for a chance to win one of the bath bombs.
Ruckus Digital handled PR and influencer content for the giveaway.
Credits:
Clients: DoorDash Canada, East Side Mario's
Senior Manager, Brand Marketing, DoorDash Canada – Heather Cameron
Associate Manager, Partner Marketing, DoorDash Canada – Caela Pentz
Senior Manager, Partner Marketing, DoorDash Canada – Sarah Behrens
Brand Manager, East Side Mario's – Deniz Melen
Agency: Church+State
Group Creative Head – Andrew Parsons
Art Director – Emily DiRenzo
Group Account Director – Sara Audrain
Content Coordinator- Julianne San Antonio
Content Strategist – Ophelie Zalcmanis-Lai
Social Media Manager – Diana Pasgas
PR & Influencer: ruckus Digital
Account Manager – Kaitlin Blackburn
Consultant – Cathryn Hurdle
Photography – Julian Peter