Harvey's highlights 'eh' beautiful thing
Planting trees across the country is one of several ways the QSR is backing up its Canadian identity.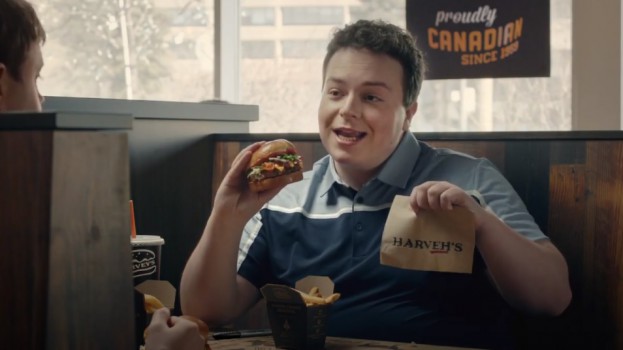 Harvey's has long traded on the love that comes from being a Canadian staple. And a new campaign from agency of record Giants and Gentlemen shows how planting a bunch of trees just makes that identity stronger.
The commercials feature a pair of diners bantering about a potential name change for the restaurant brand, from Harvey's to "Harv-eh's," talking about all of the many ways in which it is Canadian. A recent partnership with Tree Canada to plant Canadian spruce trees on Canadian soil is put right up there with sourcing its ingredients from Canada when it comes to the QSR backing up its Canadian identity.
For every burger bought between now and June 16, Harvey's will plant a spruce tree, up to 25,000, in partnership with Tree Canada.
The 15- and 30-second versions of the "Harv-eh's" debuted on TV and online Monday and run until July 4. The media buy was handled by Genuine Media.
Credits:
Chief Creative Officer / Co-Founder: Alanna Nathanson
Chief Creative Officer / Co-Founder: Natalie Armata
Associate Creative Director / Copywriter: Brandon Tralman-Baker
Associate Creative Director / Art Director: Steven Kim
Business Lead: Krista Blaylock
Account Manager: Jodi Harvey
Agency – Giants & Gentlemen
Brave Productions, Saints Editorial, In Laws Audio, Jules Casting.
Director – Paul Giannetta
DOP – Mark Peachey