DoorDash freshens up the Flavourhood
Skateboarding burgers and slam dunking donuts add a bit of an edge to John St.'s campaign.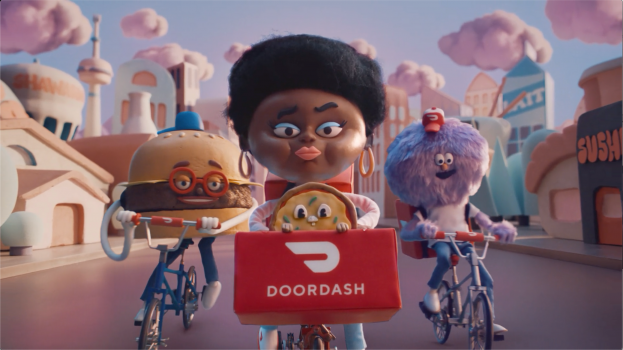 DoorDash is taking another stroll through the "Flavourhood" to inject the meal delivery service's brand platform with a new attitude.
The campaign, once again created by John St., centers on a stop-motion animated spot produced by London's Blinkink that features anthropomorphic food – this time including an ollie-popping burger cyclist and basketball-shooting meatballs and donuts – along with the chefs and couriers who make and deliver the food in the many neighbourhoods served by DoorDash across the country.
As with the initial "Welcome to the Flavourhood" campaign, the goal is to spotlight the "people and expertise and love" behind the dishes served up by the meal delivery service's restaurant partners, explains Cher Campbell, CCO at John St.
The spot is narrated by Canadian poet Britta Badour, backed by original music created by SNDWRx. It will run through the second quarter on national TV, supported by campaign elements on digital, radio, print and OOH. Wavemaker handled the media buy.
Credits:
Agency: John St.
Cher Campbell – Chief Creative Officer
Creative Team – Christian Buer & Meghan Kraemer
Creative Director QC – Cedric Audet
Megan Towers – Chief Strategy Officer
Brittany Dow – Sr. Strategist
Cas Binnington – Chief Delivery Officer
Aimee DeParolis – Head of Integrated Production
Monika Ghobrial – Sr. Producer
Jennifer Lankry – Producer
Caitlin Bourada – Team Lead
Pooja Mokashi – Account Executive
Client: DoorDash
Heather Cameron – Sr. Manager, Brand Marketing
Jodi-Ann Simpson – Sr. Production Manager
Mariota Essery – Executive Creative Director