Sleeman goes ballistic for Clear 2.0
Catapults and drones are ways 123w took a simple game to a new level in a campaign for the brewer's low-calorie label.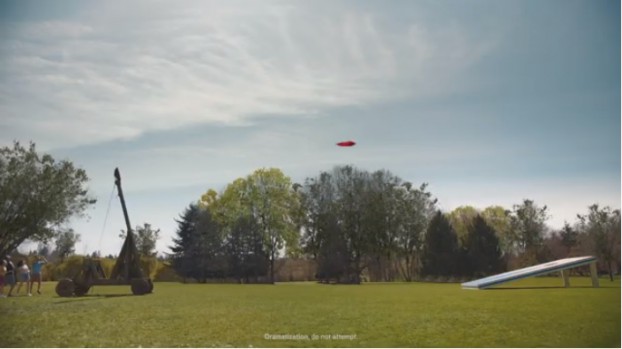 Sleeman has been selling its low-calorie Clear 2.0 beer for a number of years, but the brewer still has a "launch" in mind for its new campaign.
With help from agency 123w, the beer brand has created a high-energy spot that starts with a simple summer activity: a group of friends playing Cornhole in the yard.
But in the "2.0″ spirit of taking things to the next level, the game is made increasingly challenging (and elaborate). What starts with incorporating golf clubs escalates to flying a target high above in a drone to building a catapult to hurl projectiles across an open field.
"The notion of '2.0ing' something resonated quickly with us and of course we loved the link to the product's name," says Dana Brochu, director of marketing at Sleeman Breweries Ltd.
"Beer is a tough category to stand out in, so we wanted to go big and aspirational with unexpected, inventive scenes. Our hope is that the spot makes you want to get out there and 2.0 whatever you're doing," says John Larigakis, creative director at 123w.
Sleeman is no stranger to elevating summer shenanigns: when it launched its Okanagan Spring label, it ran a campaign featuring a bunch of friends rolling a giant beachball through a camp site.
The Clear 2.0 campaign, created in English and French, includes TV, YouTube and social, and is part of a bigger campaign that includes the new Clear 2.0 Peach flavour, launching mid-May in time for the long weekend.