Harry Rosen celebrates a Schitt-y wedding
The menswear brand gives newlywed superfans a gift card containing an Easter Egg from the show.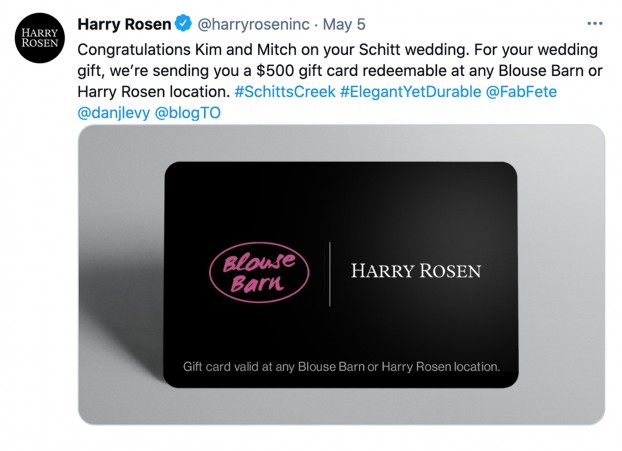 Menswear brand Harry Rosen's latest surprise and delight is built around having fun with a fictional apparel store from the hit show, Schitt's Creek.
Kimberly Fishman and Mitch Potashner of Maple, Ontario are Schitt's obsessives, and their dream wedding was held in the nearby small town of Mono. That's where you can find the motel that provided the exterior shots for the Rosebud Motel, which the newly destitute Rose family was forced to call home on the show.
But on the wedding day, the hotel became the Fishpot Hotel (a portmanteau of the couple's names) and the Schitt-y wedding caused a minor media sensation and even earned a congratulatory shoutout from star Dan Levy. According to reports, both sets of parents also surprised the bride and groom by dressing up like Moira and Johnny Rose from the series.
When it heard about the wedding, Harry Rosen decided to offer the happy couple a $500 gift card – which was redeemable at any Harry Rosen location, but also "Blouse Barn." As followers of the Emmy-winning show will already know, Blouse Barn is in the neighbouring town of Elmdale, the closest thing the area has to a fashionable boutique store.
The idea and quick thinking come from Toronto agency Zulu Alpha Kilo, which picked up the Harry Rosen account last year.