Fondation Emergence creates a Pride flag out of bruises and injuries
Rethink creates a graphic reminder that the fight for LGBTQ rights is still ongoing.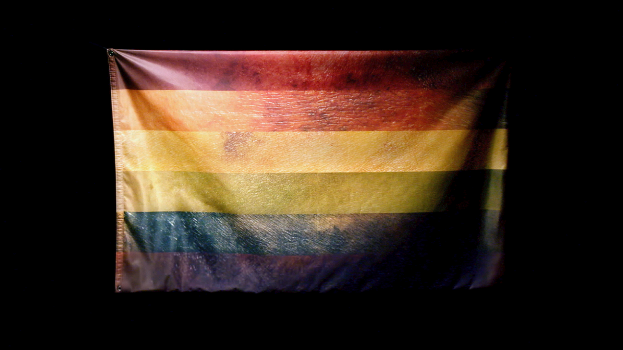 Content warning: This story contains videos depicting violence and injuries to LGBTQ people that can occasionally be graphic in nature.
The commodification of Pride is a subject LGBTQ activists always try to ensure is top of mind as the summer approaches. Despite the rainbow logos and parades across the country, they don't want people to get distracted from the fact that efforts to recognize the rights of LGBTQ people have not always been a party.
Fondation Émergence has created a graphic reminder of that fact, as well as the reality that, for some people, the risk that comes with expressing their rights continues to this day.
To mark the International Day Against Homophobia and Transphobia on Monday, May 17, agency partner Rethink created a new version of the Pride Flag. While it appears to be the same rainbow colours, a closer inspection reveals that they are actually close-up images of bruises, wounds and injuries queer people and activists have sustained after being targeted by hate crimes. The images are taken from attacks that occurred in countries including Canada, the U.K., Cambodia and Cameroon, showing that this remains an issue throughout the world.
The flag is meant to serve as a dual reminder. The first is that Pride was started as a protest movement, which has meant activists have risked severe injury and even their lives in the fight for their rights. The second is that it remains a protest movement to this day, and the fight is one that is ongoing: all of the images used to create the flag were from the last eight years, with most of them being no more than three years old.
The images are likely difficult for some people to see, especially for queer people themselves, when they, their friends or chosen family are statistically very likely to have been the victim of similar attacks.
But like the origins of Pride itself, the campaign is meant to make people in power uncomfortable. To make sure the message gets delivered directly, Fondation Émergence is sending its flags directly to United Nations Member States that still have homophobic laws, specifically the six where the death penalty is prescribed as punishment for consensual sexual acts between people of the same gender.
"This flag is our message to countries where violence against LGBTQ+ people is sanctioned," says Laurent Breault, general manager Fondation Émergence, who adds that it's a message that is being sent closer to home than many Canadians would like to admit. "Even in Canada, where some politicians still support conversion therapy, and hate crimes against gay people are on the rise, we have a long way to go."
Rethink has frequently helped Fondation Émergence bring attention to the hate that LGBTQ people still face. In 2019, the agency created a series of wild postings made up of slurs and harassment directed towards queer people on social media. Within 20 minutes of the posters going up, officials from the city of Montreal had them removed, but the campaign pointed out that the posts could still be found online, highlighting the inaction of major social networks when it comes to hate speech.
Credits
Client: Fondation Émergence/Journée internationale contre l'homophobie et la transphobie — Alexandre L'Hour, Laurent Breault, Francis Viau, Olivia Baker, Patrick Desmarais
Agency: Rethink
Chief Creative Officer: Aaron Starkman
Executive Creative Directors: Nicolas Quintal, Mike Dubrick
Creative Directors: Xavier Blais, Maxime Sauté
Art Directors: Maxime Sauté, Rachel Leblanc, Ryan Cookish
Copywriting: Xavier Blais, Geoff Baillie
Account team: Héloïse Picard, Alex Lefebvre
Production: Alex Butt, Sarah Longpré, Katia Dupuy, Shelby Spigelman
Strategic planning: Pascal Routhier
Web development: Steve Lam, Ken Malley
Digital Production: Todd Harrison
Computer graphics and digital animations: Scott Russell, Darina Kosikova, Ignacio Florez
Director of Photography: AA Scott McClellan
Photography: Riley Stewart
Photography Production: Fuze Reps
Video Production: Productions R+D
Original music / score: Grayson Music
Public Relations: Meredith Montgomery & Sara Lemmermeyer (Rethink), Hugues Mousseau (Heyco), Éric Santerre, Samantha Williams (Tök Communications)