Klick makes screening for colour blindness kid-friendly
An interactive book aims to make discovering an under-diagnosed condition more accessible, available and engaging.
Screening for colour blindness doesn't sound like the most fun thing in the world, but Klick Health has developed a way to change that for both kids and parents.
Working with the San Francisco-based Children's Eye Foundation (CEF), the agency created an interactive children's book to screen for color vision deficiency (CVD). The book, The Curious Eye, features different colourful scenarios and shapes that work on the same principles as traditional tests, but can be done by seeing a child's reaction to the story and images, rather than quizzing them on if they see a red number in a field of green. The aim was to create an engaging tool, and a central character – the eye itself – to more naturally lead children and parents through the book and, by extension, the screening process.
"We thought that instead of creating an awareness campaign around colour blindness, that we could create a solution," says Michael Bonilla, ECD, at Klick Health, who adds that the genesis of the idea came from a member of the creative team, whose brother-in-law has colour blindness.
Colour vision deficiency, the technical term for colour blindness, affects about one in 12 males and one in 200 females, yet the condition remains highly undiagnosed, especially in kids. Early diagnosis is also crucial, as color is an important learning and development tool during a child's formative years.
When the shop learned about the prevalence of CVD globally, Bonilla says the agency was an opportunity to provide a more modern update of the century old-plus Ishihara Test, the red-green colour perception tool, which can be confusing to children.
Klick teams in Toronto and New York worked collaboratively on the book, which was printed in Canada.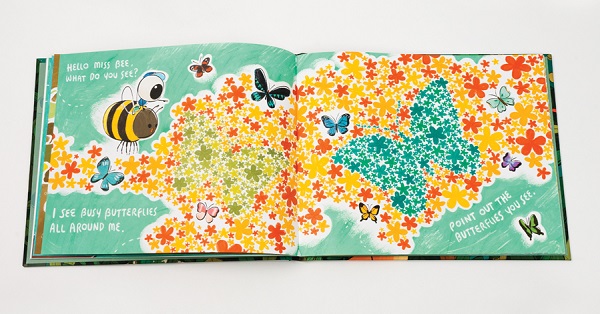 It's available for free in a digital version online, while the initial print run will be for ophthalmologists.
Coming off the pandemic and with parents spending more time with kids, interactivity does not have to mean AR or gamification. According to Bonilla, The Curious Eye combines a love of reading, picture books, and transforms a screening tool into a story. Even in a digitized age, a book can have an amazing impact for kids, Bonilla maintains.