Quebec is fighting climate change one stitch at a time
The Ministry of the Environment and Lg2 make a quilt that's also a metaphor for collective action to reduce emissions.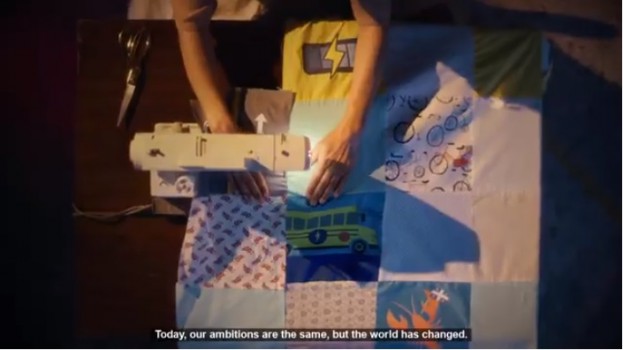 Quebec's Ministry of the Environment and the Fight Against Climate Change (MELCC) is using a patchwork quilt as a metaphor to show how small, individual contributions can contribute to a greater whole.
"Courtepointe," created with agency Lg2, gradually reveals the outcome of different people working together on different sections of the textile – each one representing different actions people can take, and how they can add up to a major impact. The finished product leads down the middle of a suburban street, then winds its way up a flight of stairs to a boy's bedroom, tucking him in.
For this first mass campaign, MELCC is looking to mobilize Quebeckers to actively take part in efforts to achieve its 37.5% greenhouse gas (GHG) reduction target by 2030 as set out in the Plan for a Green Economy (PGE).
"We wanted to find a compelling image that would accurately represent this collective project whose success depends on several parts working together," says Alexandre Jourdain, partner and CD at Lg2. "And since we are also building the Quebec of tomorrow for our children, who better than these future citizens to give voice to this mobilizing campaign?"
"Courtepointe," is  being rolled out on television in the province, and also digitally. The Ministry of the Environment's Instagram page also provides a more close-up look at the 30 squares, each one illustrating individual actions that can come together to reduce GHG targets.
CREDITS
Client: Ministère de l'Environnement et de la Lutte contre les changements climatiques
Pauline Boissinot: Directrice des communications; Nathalie L'Italien: Directrice adjointe et chef du Service conseil  Anne Trudel: Conseillère en communication; Eveline Mongrain: Conseillère en communication
VP, creative: Marilou Aubin
VP, strategy: Sophie-Annick Vallée
VP, account services: Marie-Christine Cayer
Creative direction: Alexandre Jourdain
Creative: Simon Blaquière, Antoine Dasseville
Strategy: Stéfanie Forcier, Virginie Wérotte
Account services: Samuel Bouffard
Agency production: Lyne Leclair
Quilt design: Flavie Lechat
Photography: Harold Fortin, Jean Landry
Illustration: David Arcouette
Director: Jérémy Comte
DOP/Photography: Alexandre Nour
Production House/Production: Colossale
Sound Studio/Engineering: Cultnation
Music: Cultnation
Image Editing: Joannie Rosa
Thanks: STM - SÉPAQ – Lion Électrique