Michael Garron Hospital wants to be a good neighbour
Field Trip creates a campaign that taps into the community hospital's local roots.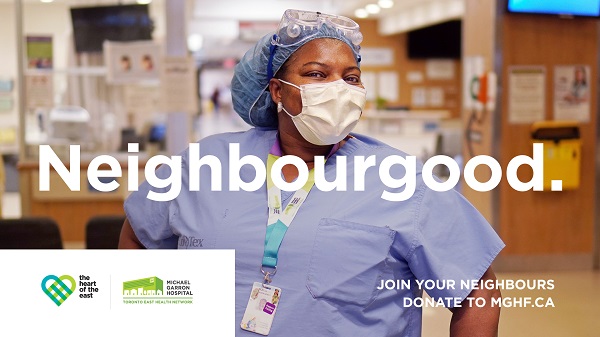 Michael Garron Hospital Foundation wants people to know it's good at being neighbourly.
A campaign created by agency Field Trip & Co. aims to show how the $400 million dollar redevelopment of the former Toronto East Hospital will create a better patient experience and how it will transform the way the community experiences healthcare. It does this through radio, print, social and OOH ads that make references to the community it serves, like coffee shops on the Danforth.
"'Neighbourgood' recognizes that, as a community hospital, we are East Toronto's neighbour, who is just around the corner and ready to help in a time of need," says Abigail Brown, director of marketing and communications for the Michael Garron Hospital Foundation. "That means we rely on our neighbours for their support, too."
According to Brown, the pandemic has inspired give local sentiment and it's been encouraged by the outpouring of goodwill. The campaign builds on the notions of what a good neighbour is: it's not just about bricks and mortar, but about building and sustaining a world of expert and quality healthcare, close to home, says Mitze Mourino, president at Michael Garron Hospital Foundation.
The institution's head of critical care Dr. Michael Warner, has recently attracted thousands of followers by sharing stories of pandemic deaths on social media, and documenting COVID-19′s third wave, as well as calling for paid sick leave and paid time off for vaccinations.
PHD is handling media on the campaign.
Credits:
Title: Neighbourgood
Advertiser: Michael Garron Hospital Foundation
SVP Marketing: Mitze Mourinho
Director of Marketing: Abigail Brown
Agency: Field Trip & Co.
Creative Director: Alison Garnett
Copywriter: Brad Myers
Photographer: Kevin Holm
Radio: Cylinder Sound
Media Buy: PHD Media
Developer: Sergio Bastias
Art Director: Joyce Dang
PR: Bernice Couto Consulting