Miller Lite has an idea out of left field
Sid Lee created a baseball glove designed to catch a can of beer at a game.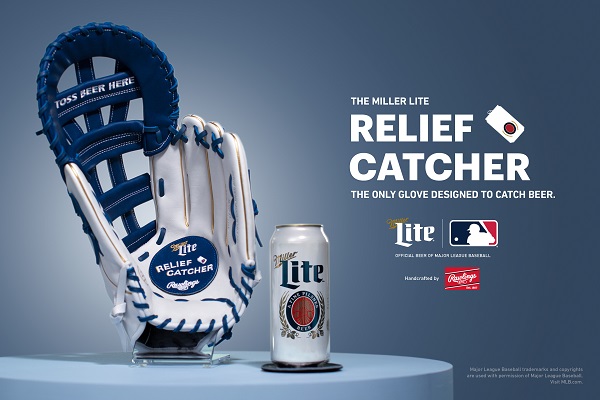 Kudos to whoever "pitched" this idea.
Miller Lite, along with agency Sid Lee, created a baseball glove designed not to catch home runs and foul balls in the stand, but for beers bought from stadium vendors.
The inspiration came from taking the phrase "toss me a beer" literally, according to Matt Fraracci, CD at Sid Lee. But the glove is meant to take what is perhaps the most easily socially distanced of all the major North American sports, baseball, and make it even safer, by eliminating the need for fans to leave their seat at the stadium, potentially crossing paths with other people or getting face-to-face with a beer vendor.
The glove, created with the official MLB manufacturer Rawlings, comes complete with a tallboy pocket that is capable of catching any size Miller Lite can sold at stadiums. It is also insulated with a leather, coozy-like lining to keep suds chill, and it even comes with a removable coaster.
Five people will get a chance to win the "Relief Catcher," at the Miller Lite microsite. The contest, open to those of legal drinking age, runs until July 19th.
Credits
Client – Miller Lite
Senior Brand Director: Joy Ghosh
Senior Marketing Manager: Katie Rankin
Partnerships Manager: Melissa Boyce
Brand Manager: Luca Garofalo
Agency- Sid Lee
Executive Creative Director: Jeffrey Da Silva
Creative Director: Matt Fraracci
Copywriter: Jake Hulsebosch
Art Director: Runda Dong
Group Account Director: Kiara Wilson
Account Supervisor: Micaela Pereira-Castillo
Executive Producer: Ryan Reynolds
Production Coordinator: Melissa Mendes
Media agency – Wavemaker
Media planner: Peter Forde
Production: Sid Lee
DP: Graham Beasley
Line Producer: Christa Michelle
Art Director: Casey Tuninga
Postproduction: Sid Lee
Editor: Maxine Hood
Creative Director: Marka Rankovic
Flame Artist: Deji Oduntan
Motion Design: Emma O'Neill
Audio: TA2