IKEA designs couches inspired by Pride flags
The "Love Seats" gave LGBTQ artists a chance to express themselves as in-person celebrations remain cancelled.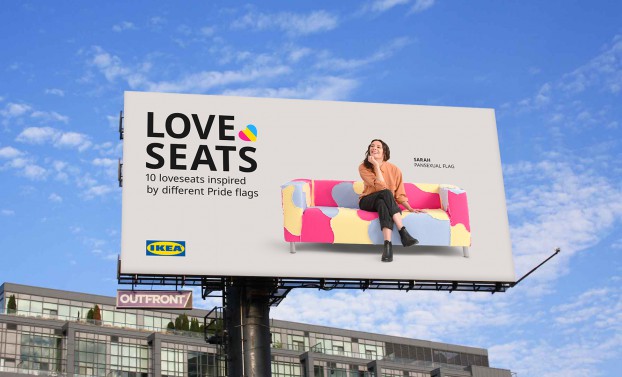 With in-person Pride celebrations largely scrapped due to the pandemic, it has been a difficult time for members of the community to share their stories and showcase their pride.
In order to give the community a literal platform on which to do so, IKEA Canada has launched a collection of unique slipcovers inspired by the colours of the various Pride flags, release in time to align with Toronto's virtual Pride celebrations.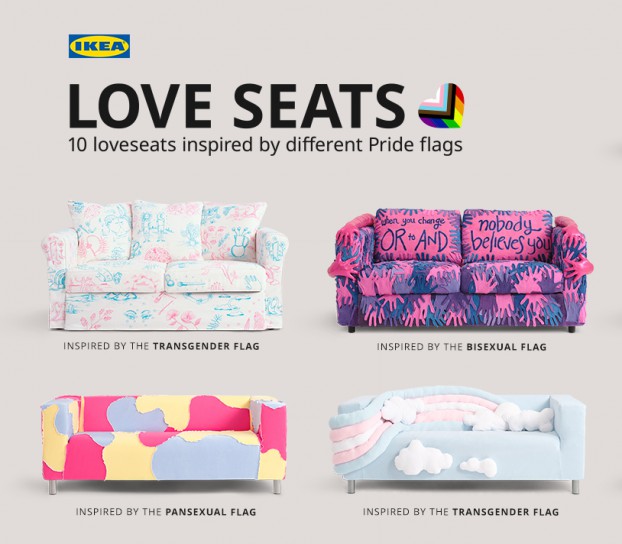 The slipcover collection, titled "Love Seats," consists of ten individual slipcovers. All of them were handcrafted by one of four designers: Bianca Nachtman, Madison Van Rijn, Charlotte Carbone and Ali Haider. Creative going along with the campaign also show individuals and families enjoying the couches.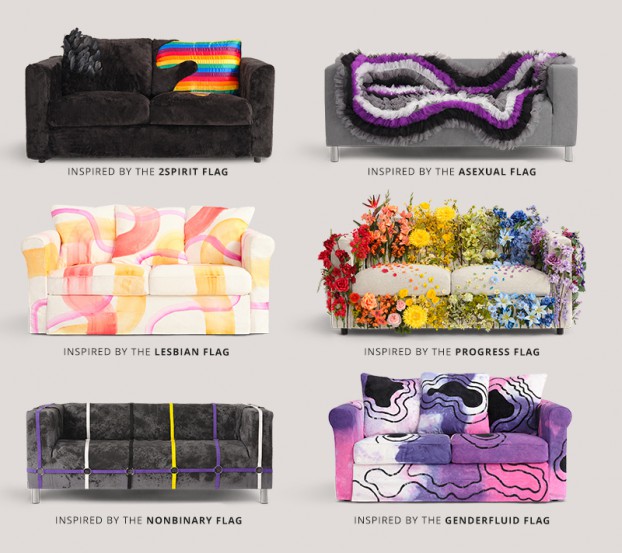 "Each Love Seat was designed in collaboration with a community member and inspired by the colours and personal meaning of the corresponding flag," Claudia Mayne, director of marketing communications at IKEA Canada, said in a release. Some of those designs are simply fun and expressive, but some come with a statement, like the bisexual couch, which carries a message about bisexual erasure and people "not believing them" about their sexuality.
"This partnership is our way of helping artists in different communities express themselves on a large platform in a way that's been tricky during COVID-19," Mayne says.
In addition to a landing page where members of the community have shared their stories of love and acceptance, the seats themselves will be on display at select IKEA locations across the country during the summer.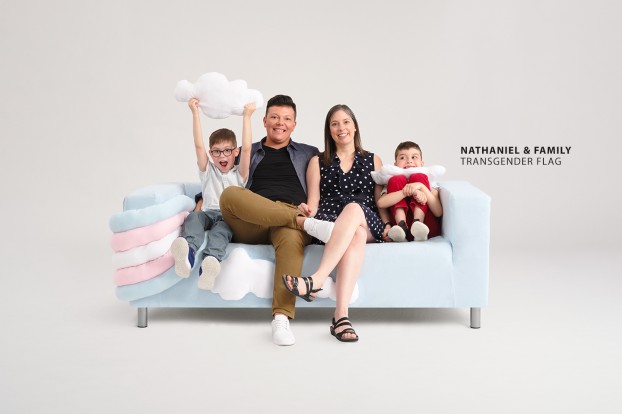 Credits:
Title: Love Seats
Client: IKEA
CCO: Aaron Starkman
Executive Creative Director: Mike Dubrick
Head of Art & Creative Director: Joel Holtby
Creative Director: Joel Holtby
Associate Creative Director & Art Director: Caroline Friesen
Associate Creative Director & Copywriter: Robbie Percy
FR Associate Creative Director & Copywriter: Karine Doucet
FR Copywriter: Camille Mongeau
Designer: Erin Struble
Strategist: Shereen Ladha
Chief Strategy Officer: Sean McDonald
Director Of Broadcast / Producer: Shelby Spigelman
Broadcast Producers: Spencer Houghton, Anna Tricinci
Director of Print Production: AJ Merrick
Production Artist: Shane Finigan
Production House: Undivided Creative
Production House Producer: Scott Houghton
Director: Kobi Ntiri
DOP: Nina Djacic
Photographer: Joe Bulawan
Behind-The-Scenes Videography: Bradley Golding
Photo Retoucher: Joe Bulawan / Shane Finigan
Post Production House: School Editing
Editor: Lauren Horn, Lynn Sheehy
Assistant Editor: Fiona Alvarez
Post Production Producer: Yumi Suyama
Transfer & On-Line: Emmett Maloney
Audio House: Grayson Matthews
Audio Director/ Engineer: Brian Bernard
Music Director: Rich Hamilton
Audio Producer: Nicholas Shaw
Date of First Appearance: June 24, 2021