123w hires a 'booster'
In the midst of a recruitment drive, the agency looks to a fitness guru to bring surprising energy to a virtual meeting.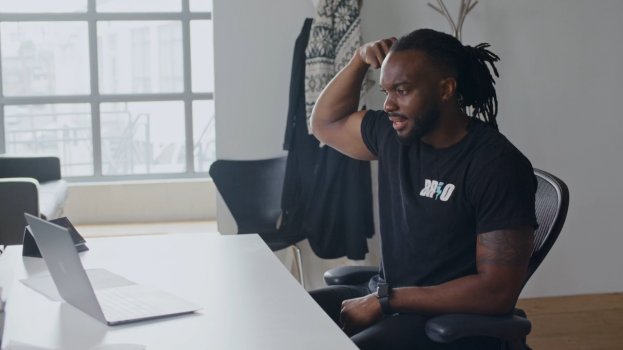 Bringing new talent into your agency can be a tricky thing right now.
When people have been working virtually for the last 15 months – which seems like it's going to be a reality for at least a little bit longer – it can be difficult to make your workplace stand out. Not to mention that most staff are suffering from "Zoom fatigue," which means it's also challenging to make a video conference an exciting way to welcome new recruits.
So 123w created a new position to bring some virtual energy to the agency – a "booster."
CY Iwanegbe is a Vancouver-based fitness trainer and wellness coach who just so happens to have worked with 123w founder, CEO and president Scot Keith in the past. Keith obviously had a bit of a lightbulb moment during a session with the trainer, because one day, 123w's team signed into a Monday morning Zoom call where they were greeted by Iwanegbe telling them to get their cameras on and start the day strong with energy.
One 123w'er describes Iwanegbe as the "personification of the fist bump emoji, combined with the hands raised emoji and a Ric Flair emoji." In the video below, he is shown as a constant source of positive reinforcement, sharing supportive words during a meeting. One staff member even seems to catch herself by surprise when she admits how much she just needs to hear how good of a job she's doing.
Beyond the benefits Iwanegbe has already had for existing talent, 123w is currently hiring across departments, and is hoping to show talent that it can create an energetic environment where they can generate new creative ideas. While the "booster" role is fictional, that doesn't mean Iwanegbe was just brought in for a fun stunt self-promo video – he will be continue to work with the agency in a series of regular, remote training and wellness sessions.