LCBO turns cottage country staple into warning sign
Art installations made out of car wreckage serve as high-impact designated driver reminders.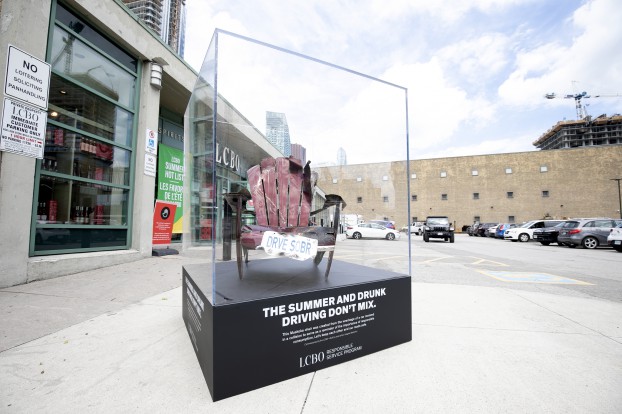 As Canadians make plans to enjoy cottage and camping season under less restrictive health and safety measures, the LCBO is reminding Ontarians of the dangers of drinking and driving by utilizing a cottage country staple: the Muskoka chair.
Starting June 30, four Muskoka chair installations created by Hamilton-based metal artist Trevor McIntyre were placed in front of LCBO locations in Toronto, Ottawa, Gravenhurst and Huntsville. Encased in glass, the works-of-art were made from metal salvaged from cars wrecks and will be on display throughout the summer.
While responsible consumption is a message the LCBO promotes throughout the year, the summer months are an even more important time to remind customers that "summer and drunk driving don't mix," said Vanda Provato, the organization's chief marketing and digital officer, in a release.
The campaign was developed in partnership with the LBCO's social impact agency, Public Inc. Lg2 is supporting on social media and production –including behind-the-scenes social videos of McIntyre creating the installations – with Craft leading PR efforts.
The installations are part of the organization's Spirit of Sustainability platform, which supports safe and informed consumption initiatives, including an ongoing charitable relationship with MADD Canada.