MADD sends a sobering message in a bottle
Rethink drew inspiration from folk art to drive home a message to people who have knowingly taken a risk behind the wheel.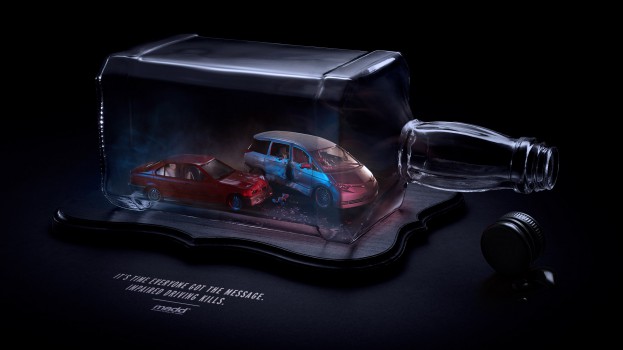 MADD Canada has put its latest message in a bottle – literally – with a new series of PSAs designed to raise awareness about intoxicated driving trends it discovered in a recent national survey.
The PSAs, created by Rethink, centre on the striking visual of a crash scene contained in a recognizable alcohol bottle. Each of the scenes is a hand-crafted model from builder Matthew Kett that deliberately evokes the classic ship-in-a-bottle style while simultaneously communicating a clear message that driving under the influence can hurt or kill.
MADD Canada developed the PSAs in response to findings from its new national survey, which showed that among 67% of the drivers who had recently used alcohol, 10% had knowingly gotten behind the wheel while impaired at least once in the past six months, claiming they didn't feel impaired, didn't have to drive a far distance, or claiming they could drive carefully.
"People know that driving under the influence is dangerous and illegal, and they risk it anyway," Jaymie-Lyne Hancock, MADD Canada's national president, said in a release. "It will not matter that you didn't feel impaired or didn't have far to go if you cause a crash that kills or injures someone."
With lockdowns starting to lift, MADD Canada is trying to communicate to the 25% of Canadians aged 35 to 54 who increased their drinking during the pandemic, as well as the half of cannabis users who increased consumption in the first wave of it, that they should only drive when sober.
The PSAs launched on July 5 on TV and in print. It is supported by a media buy from Carat Media. Rethink handled the PR.
Credits
Title: Bottles
Client: Mothers Against Drunk Driving Canada
CCO: Aaron Starkman
Head of Art: Joel Holtby
Executive Creative Director: Mike Dubrick
Creative Director: Joel Holtby, Dhaval Bhatt
Copywriter: Dhaval Bhatt, Xavier Blais
Art Director: Joel Holtby
Designer: Joel Holtby
CSO: Sean McDonald
Director Of Broadcast/Producer: Shelby Spigelman
Director Of Print Production: AJ Merrick
Print Producer: Narine Artinian
Production Company
Mini Model Builder: Matthew Kett
Photographer: Adrian Armstrong
Photography Agency: Fuze
Editorial: School Editing
Editor: Matthew Kett
Exec Producer: Sarah Brooks
CG/VFX/Finishing: Wingman VFX
Exec Producer: Samantha Simpson
CG Artist/Compositor: Sean Douglas
Colour: Alter Ego
Colorist: Eric Whipp
Colour Producer: Spencer Butt
Audio House: Vapor Music
Exec Producer: Lindsey Bates
Creative Director: Ted Rosnick
SFX – Kevin Chamberlain
Engineer – Ethan Myers
Date of First Appearance: Monday, July 5, 2021
Client: Mothers Against Drunk Driving Canada
Dawn Regan, Chief Operating Officer