The IOC turns to a Canadian crew for the Tokyo Olympics
A series of spots focused on collective resilience were created over three years and four continents.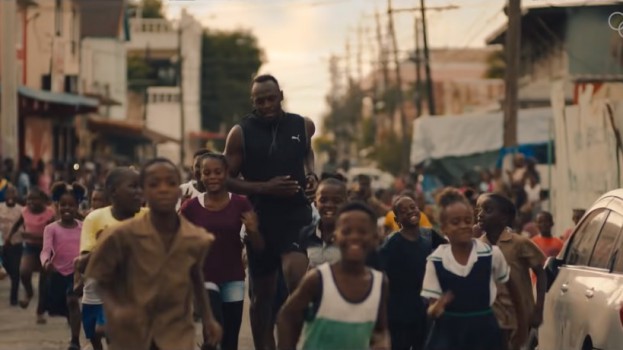 The all-Canadian production crew behind the International Olympics Committee's 2021 campaign, "Stronger Together," has made an impression – in fact, according to the IOC itself, it has made more than 250 million of them.
Working with Canadian design agency Hulse & Durrell, the spots were produced by Toronto's Scouts Honour and directed by Mark Zibert and Kevin Foley. The hero spot debuted in late June, featuring household names such as Usain Bolt, Naomi Osaka and Tony Hawk alongside lesser-known Olympians such as Refugee Olympic Team member Yusra Mardini and Cuban-Italian wrestler Frank Chamizo Marquez.
The spots, it should go without saying, are promoting the Tokyo Olympics, and trying to rally excitement around the Games after being postponed last year.
While that anthem spot has made waves, additional gold has followed with subsequent spots that focus on several of the athletes – including one each for Bolt and Osaka – as they share their story while offering an inspiring message about solidarity. That's a direct tie to the kind of mood the directors helped create as part of the pitch that won it the work: creating a sense of humanity and emotion in the storytelling that included inspiring displays of physicality, but also emphasizes solidarity and the strength in the collective human experience.
One of those spots prominently features skateboarding icon Tony Hawk with Nyjah Huston, the highest-paid professional skateboarder in the world – a direct nod to the debut of skateboarding as an event at these Olympic Games.
The final film in the six-video series was released on Tuesday, offering a look inside the world of wrestling by showing the grace and power of Cuban-Italian wrestler Frank Chamizo Marquez.
The crew started work on the campaign ahead of the COVID-19 pandemic, but had to be postponed and finished  in 2021. Footage was shot internationally in six cities across four continents, including Cape Town, Lisbon, Los Angeles, Kingston, Melbourne and Toronto. Having only an average of 30 minutes with each athlete, "the key was to not be too precious," said Foley. "We would research, prep, look at the scene, capture it, then move on to the next sequence."
Credits:
Production House: Scouts Honour
Directors: Kevin Foley & Mark Zibert
Producers/EP's: Simon Dragland & Rita Popielak
Cinematographers: Eric Kaskens & Mark Zibert
Creative Research: Tricia Zaremba
Photographer: Janick Laurent
Editorial: Married to Giants
Executive Producer: Julie Axell
Editor: Graham Chisholm & Raj Ramnauth
Assistant Editor: Matthieu Belanger & Nick Yumul
Agency: Hulse & Durrell
EP: Greg Durrell
EP: Ben Hulse
Producer: Kelly Parlane
Art Director: James Moslander
Copy Writer: Adam Tetreault
Online/SFX: The Vanity
Lead VFX Artist: Sean Cochrane
VFX Artists: Mike Medeiros, Andrew Farlow
EP: Stephanie Pennington
Producer: Kayla Baxter
Audio House: Six Degrees Music & Sound
Voice/Music Director: Dan McManus
Original Score: Alec Harrison
Additional Orchestration: Chris McGuire
Re-recording Mixer: John Iaquinta
Colour: Alter Ego Post
Colourist – Wade Odlum
Service Production Companies: Lisbon, Portugal – AG Films
Cape Town, South Africa – Moonlighting
Los Angeles – The Media Mob
Kingston, Jamaica – Walters Productions Jamaica
Australia – FINCH