Interval House uses bruised fruit as a metaphor for domestic violence
Union chose grocery stores to get life-saving info to women trapped with their abusers.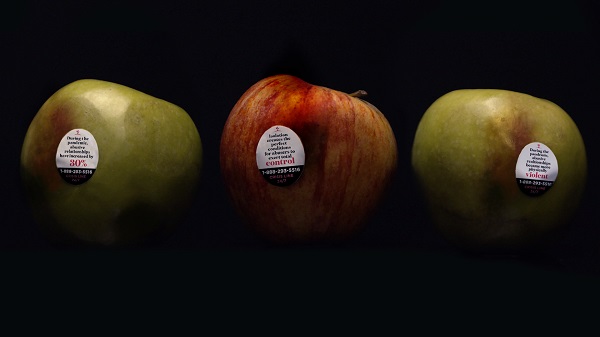 In a provocative new campaign, Interval House, a centre for abused women and children, is using bruised fruit to underscore the severity of domestic violence.
Created by Union, the "Bruised Fruit" campaign features supermarket fruit displayed with messages educating consumers about the issue that violence doesn't abate as lockdowns for COVID-19 ease.
In fact, since the onset of the pandemic, intimate partner violence has increased by more than 30% in the country. And this spring, it was reported that Canada's Assaulted Women's Helpline fielded 20,334 calls between Oct. 1 and Dec. 31, 2020, a 60% increase over the same period the year prior.
With women frequently trapped in homes with their abusers, the fruit messaging represents covert, yet potentially life-saving information to women in a very public place – the grocery store.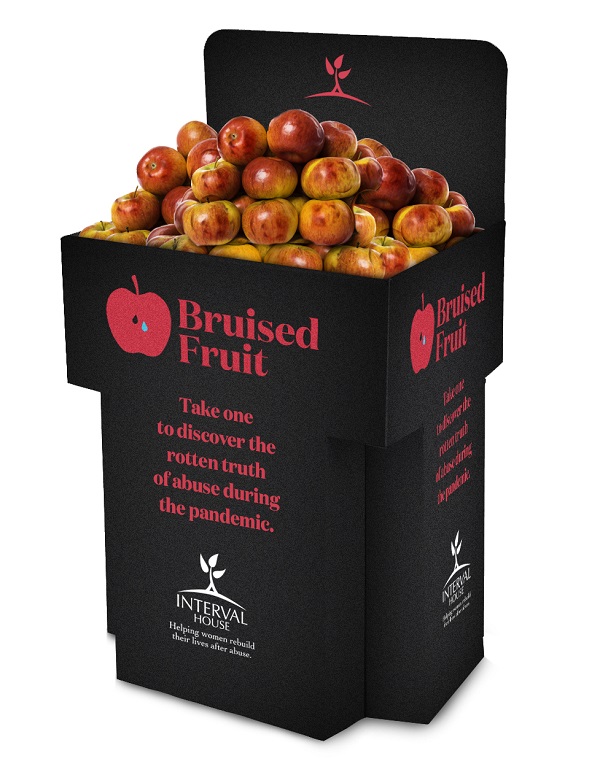 "It's the perfect storm," says Paula Del Cid, manager of shelter services and outreach at Interval House. "Women are more vulnerable to intimate partner violence than ever, and it's also harder than ever for them to reach out for help. The bruised apples are a way to get them the information they need, secretly and safely."
Shoppers can witness the displays at The Big Carrot in Toronto's Greektown, with more popping up around the city over the next month.
Credits:
Agency: Union
Chief Creative Officer: Lance Martin
Executive Creative Directors: Adam Thur & Rica Eckersley
Associate Creative Director/Art Director: Justin Turco
Associate Creative Director/Copywriter: Jill Mack
VP, Integrated Production: Jennifer Dark
Integrated Producer: Carolyn Mitchell
Content Creator & Photographer: Jonathan Lajoie
Studio Manager: William Leung
Editor: Doug Groves
President: Catherine Marcolin
Group Account Director: Kristine Lafreniere
Account Supervisor: Zoe Reynolds
Senior Strategist: Michael McDonald-Beraskow
VP, Group Media Director: Cherie Raymond
Post-Production: Married To Giants
Senior Producer: Jenna Edwards
Offline & Audio Editor: Matthieu Belanger
Post F/X: Wingman VFX
Executive Producer: Samantha Simpson Online Artist: Johnny Ames
Printing: C.J. Graphics