IGA gets some 'tough cookies' to create tattoos
Sid Lee is helping the grocer support the Fondation Charles-Bruneau with art created by kids who are currently in remission.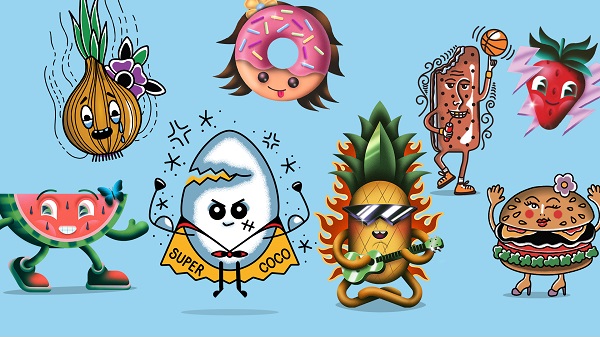 Kids who've beaten cancer are the creative force behind IGA's latest effort to support Montreal pediatric cancer treatment centre, Fondation Charles-Bruneau.
IGA and creative agency Sid Lee put out a call for kids in cancer remission to submit drawings of their favourite fruit, vegetable or other food. The agency then took these drawings to local tattoo artists David Peyote and Cat Bijou to turn them into designs made into temporary tattoos.
The temporary tats can be purchased online or in IGA stores with proceeds going to the Fondation, part of its "Tough Cookies" campaign in support of kids showing the utmost resilience.
Two of the eight tattoos, meanwhile — Super Egg and Pineapple (above, centre) — are also being animated in augmented reality. After applying their ink, users can go to a microsite and select the video of the tattoo they want to activate, animated by a Facebook AR app.
Sid Lee's digital team upgraded the experience to enable a game function for two of the tattoos for more family engagement with the platform, a playful initiative that the shop says challenges the traditional approach of donor solicitation.
Last December, IGA and its agency partner created origami characters for families to fold together, for sale online and in-store with the proceeds going directly to the Fondation, which which it's been associated for approximately 15 years.
Carl Pichette, VP marketing for Sobeys Québec, says IGA has been a strong Fondation supporter of its pediatric hematology and oncology research projects. This year, he says, the grocer wanted to do something a little different by celebrating the creativity of the eight young heroes who battled the disease and designed these tattoos.
Credits
Client: IGA
Agency: Sid Lee
Kid designers:
Léonie Trahan (Saint-Boniface) — Pineapple
Camille Giroux (Saint-Augustin-Des-Desmaures) — Strawberry
Rose Robitaille (Pincourt) — Watermelon
Myriam Tousignant (Saint-Boniface) — Donut
Charlie Provost (Verchères) — Onion
Louis-David Lessard (Saint-Jean-Sur-Richelieu) — Egg
Ozzie Rivest (Laval) — Ice Cream Sandwich
Julianne Faucher (Saint-Henri) — Hamburger