Heinz Spain scores a win by celebrating a lost fight
When the famed La Tomatina tomato fight was cancelled once again, Rethink found another use for the excess fruit.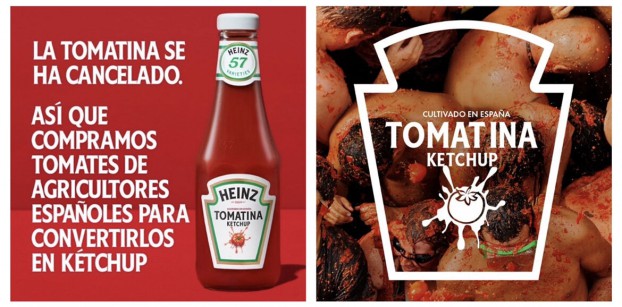 When the hopes of eager Valencians were dashed with the second consecutive cancellation of the annual La Tomatina festival, Heinz Spain saw an opportunity.
The festival, an annual tradition in the Eastern Spanish town of Buñol, brings tens of thousands of visitors out for an hour-long tomato fight in which more than 100 tonnes of the squashed fruit are thrown by and at goggles-wearing participants.
The fight is the best known part of a larger event that includes music, parades, dancing and fireworks in the town which ordinarily has a population of 9,000. The town buys and brings in the tomatoes for the event every year, but not for the past two, which have been cancelled due to the coronavirus pandemic.
Enter Heinz. The multinational CPG brand's Spanish division has purchased tomatoes from farm festivals in Spain and is using them to make limited-edition bottles of their classic ketchup in celebration of the annual event.
While nobody is encouraged to throw one of the bottles around, Heinz is hoping a few dabs of the sauce will remind people of the crimson chaos.
The campaign was developed by Rethink.