Sapsucker taps The Distillery District
The beverage company teams up with Brika for a pop-up that's part beverage sampling station, part trendy apparel store.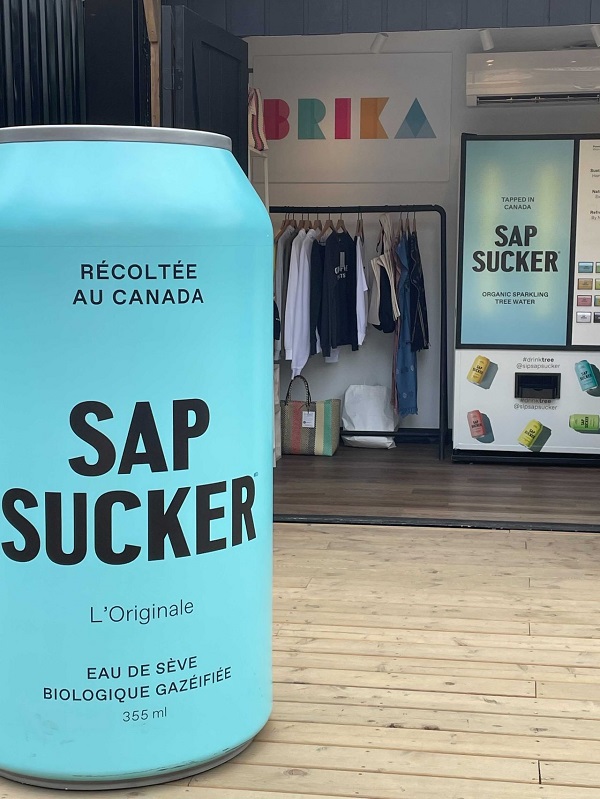 Sapsucker, a challenger brand that is literally tapping the maple tree market, popped up this weekend promoting its beverage at Toronto's Distillery District.
In partnership with Toronto retail agency Brika, Sapsucker led with displays and a retro vending machine, bringing refreshment to the apparel crowd.
Tim Lute, CEO, Sapsucker, tells Stimulant that Brika brought in like-minded bespoke apparel brands for the activation.
"We do a combination of both retail and sampling out of that space," Lute says. "For us, the [Distillery District] is a demographic fit, [it's] one of the premier tourist attractions in Toronto, [with] a high focus on design and community," he says, adding that the brand is also in talks with the District to activate around its other events, like the annual Christmas Market.
It's not the first time the beverage brand has activated around clothing. Sapsucker, with its "Drink good, look good, do good" motto, previously teamed up with sustainable organic clothing company Tentree for another promo. It's got a similar activation going on all summer at SWS Marina in Muskoka.
Lute previously said that the beverage is a premium up-trade to the growing, conventional sparkling water segment and has described Sapsucker as "a better-for-you functional beverage," a low-sugar and low-calorie refresher for those living active lifestyles.
Sapsucker also recently launched a digital media campaign "Taste Tree Water" as a brand build and category awareness play and to drive trial and conversion in-store and online (image below).
The brand is supported by marketing agency, District Ventures Plus, part of the collection of services offered by District Ventures Capital, a firm that invests in innovative food and beverage and health and wellness sector players and is led by managing partner and Dragons' Den star, Arlene Dickinson.
In April, Sapsucker entered the RTD market too, with a lime vodka offering that was a pilot project at the LCBO.
Sapsucker will be at The Distillery District until end of September.