Toronto advertising students want Kyle Lowry on a coin
The group is petitioning the Royal Canadian Mint to drop a dime of its own for the former Raptors star.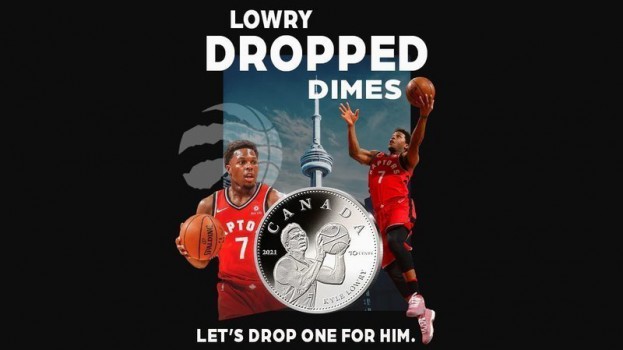 Kyle Lowry may no longer be a part of the Toronto Raptors' roster, but a group of Miami Ad School Toronto students are looking to commemorate his run with the franchise.
The holder of multiple Raptors records, including the most steals, three-pointers and triple-doubles, Lowry was an instrumental part of the team that won Canada's first NBA title in 2019.
But he is also known for making assists – in basketball terms, "dropping a dime" – another category in which Lowry holds the Raps' record, at 4,277.
Lowry's significant contributions put him on par with many other prominent athletes in Canadian sports history. So when the group of students were given a brief for one of their classes to show the athlete that Canadians appreciated his efforts, they decided to go big.
The group – comprised of students Aman Soin, Ashley Park and Mnrupe Virk, along with MAS mentor Josh Budd – is petitioning the Royal Canadian Mint to immortalize Lowry's visage by putting it on a piece of Canadian currency – fittingly, a dime.
While the formal process to submit a coin design to the mint is a lengthy and complicated one, Soin and his peers hope that their petition will lend their cause an assist.