Klick's big art display gives attention to the homeless
The agency's office supports The Shoebox Project by giving its windows to an artist who was on the street just blocks away.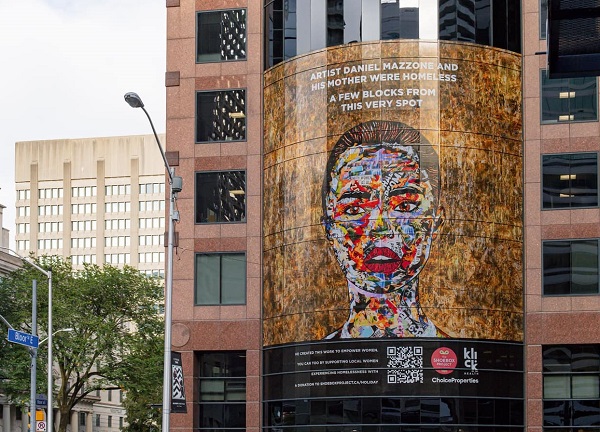 Klick Health's downtown Toronto headquarters has been transformed into a clarion call in support of homeless women.
The four-storey piece of public art, entitled "Maria," is being display in the agency's windows in support of The Shoebox Project for Women, which is collecting gift-filled Shoebox donations and messages of support, and distributing them to local women impacted by homelessness as part of their holiday campaign.
The piece draws on Canadian artist Daniel Mazzone's own life experience – he and his mother have experienced homelessness, at times sitting on the street just steps away from where his art is now being displayed.
The art project, complete with a QR code, drives passersby to The Shoebox Project website for more information or to make donations.
The intent of the piece, according Lesley Hendry, executive director The Shoebox Project, is to make sure no woman, no matter what their circumstances, feels invisible, alone, or forgotten by their community. After supporting The Shoebox Project for five years, Klick Health conceived of the project with hopes of inspiring social change, while enriching the community's physical environment and commemorating the 10th anniversary of the nonprofit.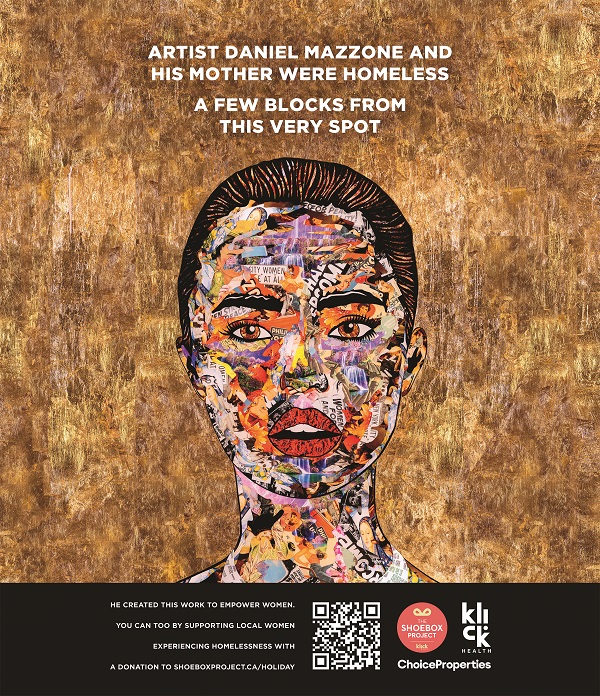 Mazzone's art incorporates a myriad of images of female inventors and women demanding an equal voice, including: Dr. Shirley Jackson, the first Black woman with a Ph.D. from the Massachusetts Institute of Technology (MIT), whose breakthrough scientific research informed advances in solar panels and fibreoptics, Ruth Handler, co-founder of Mattel toy company and inventor of the "Barbie" doll, and Grace Hopper, inventor of the first computer language compiler.
For the homeless, the holiday season can be challenging, exacerbated by COVID lockdowns, as across the country, 6,000 women and children sleep in shelters as they can't find a safe place to call home.
The activation can be viewed in-person outside Klick's Toronto headquarters at 175 Bloor Street East through the end of the year. It can also be viewed online at the The Shoebox Project site.