Jam3 shows kids the wild side of urban homes
A new AR app aims to educate a young audience about the wildlife found in cities and the impacts of climate change.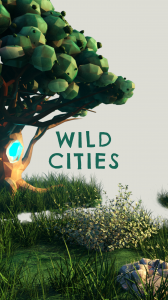 Jam3 has launched a new AR app to educate children about nature that's all around them – and how climate change could make it all go away.
Called "Wild Cities," the app has been a passion project for the Toronto-based agency, and was first conceptualized in 2019. Using a grant from the Canadian Media Fund, Jam3 developed the app and is now releasing it with a global campaign developed in partnership with the City of Toronto and the country of Luxembourg (yes, Luxembourg).
Putting this push behind "Wild Cities" is a response from the agency to the latest UN Climate Change Report, which clearly states that climate change is rapid, widespread and intensifying.
"It's more important than ever before to educate the next generation about the impact climate change will potentially have on the future," says Laura Cortes, CD at Jam3.
The app uses self-directed play, an interactive narrated storyline and AR functionality to encourage its target audience – children ages 6 to 9 – to learn about the wildlife native to cities, like raccoons, foxes, squirrels, coyotes, curlews and more. It is available in four languages: English, French, German and Luxembourgish.
More than 80% of Canadians live in urban areas, but in Luxembourg – one of the smallest countries in the world – 90% of the population lives in cities. That meant " it was important to design something that focused on the common wildlife found in these locations, in addition to ones that once inhabited these areas but are no longer able to due to external factors such as development, growing populations and pollution," explains Cortes. "All animals and plants were carefully selected by our advisers and are scientifically correct."
The app has been shared with education organizations, schools and educators, sustainability and wildlife organizations and influencers across all of those industries, to be shared among their networks. In addition, the Canadian Media Fund, City of Toronto and country of Luxembourg will promote the app via their channels, while Jam3 will use its own social media to do so.
The agency has also made "a small media buy" in support of the app, Cortes says.
"Climate change is the number one challenge we have as a collective, and getting kids excited and acquainted with nature, especially in urban settings, is paramount if we're going to raise a generation that will tackle this problem," she adds.